Galaxy S5 supposed screenshot offers clues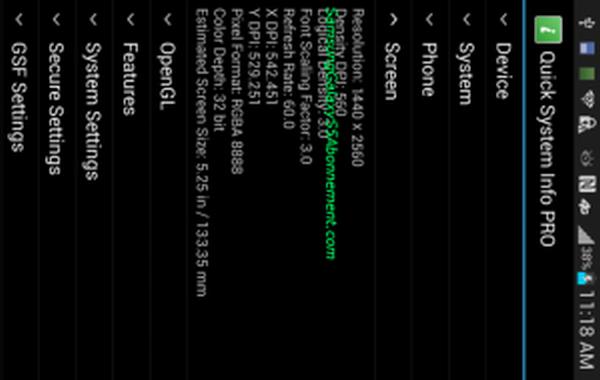 The rumour mill surrounding the Samsung Galaxy S5 has been clicking into top gear over the last few weeks as we get further into the year, and now a supposed screenshot offers some clues about the handsets screen size and specs.
There is no sign of the leaks and speculation about the next flagship smartphone release from Samsung slowing down, and now a screen shot has appeared that is supposedly from the Samsung Galaxy S5 that is giving us a clue of the screen size and resolution.
The blurry image that you can see on this page is supposedly showing that the Galaxy S5 will have a screen size of 5.25-inches and at a QHD resolution, which if accurate would provide a massive 560ppi pixel density.
There has been talk though via so called benchmark results that the device could feature a Full HD display, but hopefully in only a week's time we will know for sure what the new smartphone will offer fans of the company.
The competition is growing though and this year Samsung will go up against whatever the likes of HTC and LG are going to offer to the Android platform, and of course there will be some new iPhone models from Apple.
Samsung did get criticised last year for the Galaxy S4 looking a lot like the previous model, but there has been speculation that this year the device could come in a new material and design.
Would you like the Samsung Galaxy S5 to feature a 5.25-inch display with this resolution?
Source via Phone Arena.