Free iOS 7 update offering Apple CarPlay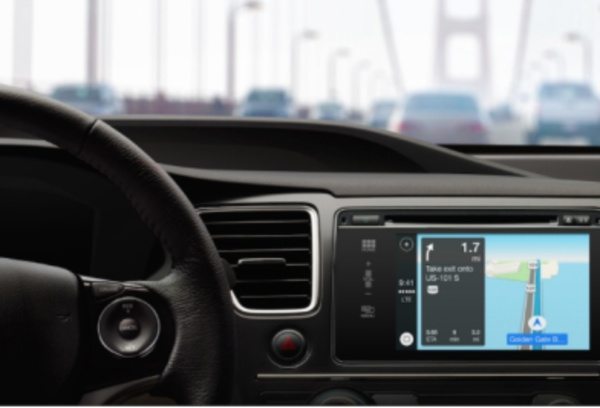 A new CarPlay feature has just been announced by Apple that will bring users an easier way of accessing iPhone functionality while in the car. It integrates an iPhone with the car, and a free iOS 7 update will bring Apple CarPlay to the iPhone 5, iPhone 5C and iPhone 5S.
CarPlay offers phone functionality via controls in the car or by voice, offering a convenient method for messaging, making and receiving voice calls and more. Drivers will be able to activate Siri via a button on the steering wheel. If you need help with directions to your destination then Apple Maps will give turn-by-turn navigation if available, and a built-in display in your car will show the map.
You can also listen to audio such as music, audiobooks and podcasts via the speakers in your car. Put basically, CarPlay gives functionality without the need to handle your phone. Owners of the Lightning-enabled iPhone 5S, 5C and 5 running iOS 7 or later will be able to use CarPlay, but only with select cars manufactured with the feature built-in. The first of these cars will ship this year.
Some cars incorporating this will be shown at the Geneva International Motor Show, with offerings from the likes of Ferrari, Mercedes-Benz and Volvo. Many other manufacturers are also getting involved including BMW, Ford, General Motors, Honda, Jaguar Land Rover, Nissan, Peugeot and Toyota to name a few.
CarPlay offers a safer way of accessing iPhone features in the car, and we can see this idea catching on, although it could take some time before a large enough variety of cars incorporating this go on sale. Do you think you will take advantage of Apple CarPlay?
Source: Apple