New LG Knock Code feature demo on video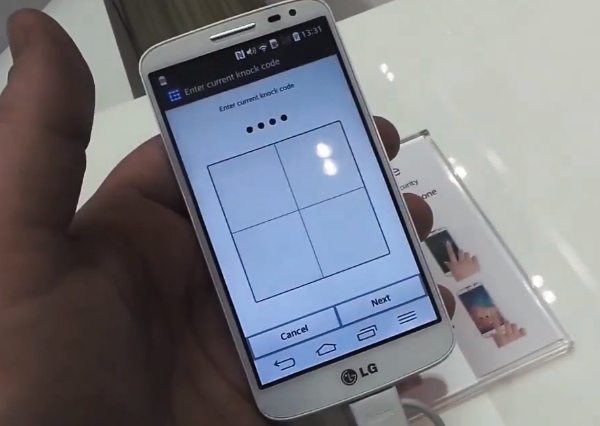 New features are constantly being introduced for different devices and LG recently unveiled some new software features for smartphones such as the LG G Pro 2 and LG G2 Mini. Knock Code is one of these additions, and if you want to see exactly how it works then we have an LG Knock Code feature demo on video to share.
Some LG device users will now have the option of using Knock Code instead of a passcode or pattern lock. This uses four quadrants that need to be tapped in the order you choose to use for your own code.
It's a pretty clever new method for unlocking your handset and seems to work well, as shown in the video that we've embedded below. As well as some of the new LG arrivals, the feature should also be available for phones such as the LG G2 and G Flex at some point.
Watch the brief YouTube video below for a walkthrough of how Knock Code works, and it really is simplicity itself. This also demonstrates just how easy this method is for when you're using one-handed operation on your phone, as well as showing
how to apply your code using Settings.
If you're worried that you have to be really precise as to where you tap the display to use Knock Code then you don't need to be concerned. As long as you tap in the general quadrant area then it will work.
Do you think you will find this new Knock Code feature useful? Are you hoping that it comes to your existing LG device soon?