Nokia Lumia 1520 and 1320 on Zero Plan for India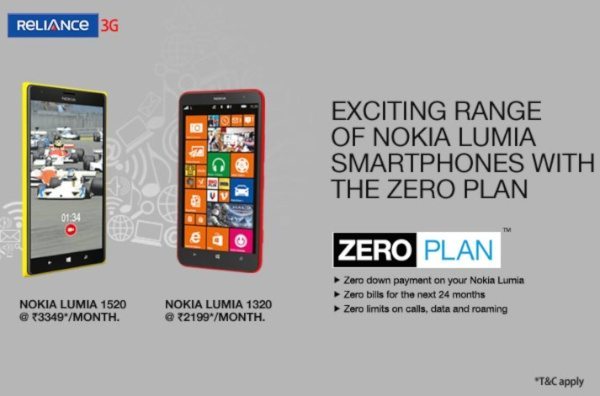 Nokia Lumia smartphones are very popular in India and now there's a great way to buy either the Nokia Lumia 1520 or the Lumia 1320. They are both available on a Reliance India Zero Plan. This plan debuted for the iPhone a few months ago and was a popular move with customers, so there are likely to be plenty of takers for a Zero Plan with these Lumia handsets.
With the Reliance Zero Plan you can get either the Lumia 1320 or 1520 with a zero down payment with the plan offering unlimited high-speed Internet, talk time, SMS and roaming. The Lumia 1320 is available on a 24-month plan at Rs. 2,199 monthly or a 12-month plan at Rs. 3,119 monthly.
The Lumia 1520 24-month plan costs Rs. 3,349 monthly. You can see more about these zero plans at the source link below. Will you be getting the Lumia 1520 or Lumia 1320 on a Zero Plan from Reliance?
Source: Reliance Via: WMPowerUser