All New HTC One (M8) vs HTC One (M7) caught on video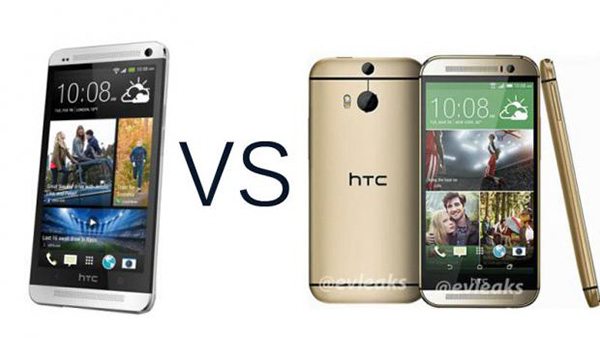 This was bound to happen, only 16 hours until the device is official we already have a very detailed video in extremely high quality showing the HTC One M7 vs the HTC One M8 also known to some as The All New HTC One.
Thanks to TechSmartt over on YouTube we have the video in question, he goes into a lot of detail regarding the build quality, camera quality and overall performance from things such as the battery etc
The video explains some of the specification difference such as the processor that has been upgraded from a Snapdragon 600 in the M7 to the brand new Snapdragon 801 in the M8, I will list the full changes below.
HTC One M7Â 
1.7Ghz Snapdragon 600
2gb Ram
Android 4.4.2
HTC Sense 5.0
Adreno 320 GPU
2300 mAh Battery
NFC & 4G LTE

vs

HTC One M8
2.3Ghz Snapdragon 801
2gb Ram
Android 4.4.2
HTC Sense 6.0
Adreno 320 GPU
2600 mAh Battery
NFC & 4G LTE
On the surface it reminds me of the upgrade the Galaxy S5 is getting over the Galaxy S4, just a revision of the specifications going faster and better, will this be the case though.
We will soon find out what all the fuss is about when HTC officially announce the device tomorrow the 25th of March.
Will you be getting the New HTC One?