Cartoon HD app for iOS suggested route and caution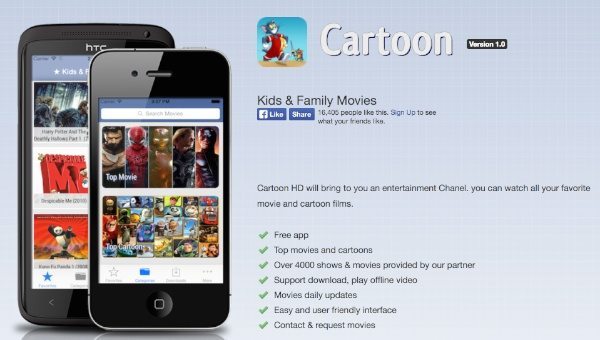 The Cartoon HD app for iOS has been generating a lot of interest and concern and we have written about this previously. The app was pulled from the App Store, although there now appears to be another route to obtain it, but we're also throwing in a caution.
We first reported on this app back in January when the app was removed from the App Store. Thousands of people had downloaded it free of charge after a message promoting it appeared on Facebook, although it had been intended that the price would be around £20.
The app contained popular full-length movies and cartoons and many people couldn't quite believe they were getting this all for nothing, and they were still able to do so after the app was removed. However, those who hadn't already downloaded the app were denied the chance when it was pulled by Apple.
Further to this, later in January we told how some readers who had downloaded the app had found it had affected their device and were having to restore factory settings, and at the same time we suggested some alternatives to the app. Interestingly we have just got wind of another way to download the Cartoon HD app and after trying this for ourselves we're passing on the information.
If you head to this GappCenter page you'll see Cartoon HD details and links to download it from the App Store, Google Play or Windows Phone Store. Although we know that if you go to the App Store you won't find it, we thought we'd check it out directly from this GappCenter page and tried this on an iPad. We were surprised when the app downloaded without any snags straight to the device and is now up and running.
It's early days but we've had an initial look and can't see any problems at all with the app and can watch the movies on our iPad with no issues apparent. However, we have noted Internet discussions about this, with some wondering if this app is safe to use. There have been warnings about using copycat apps and PC Advisor said it was unclear if the original app was malicious or not.
You can read the full article at the above link, which advises that if an app seems to good to be true then it probably is. We can only say though, that on our early experiences with the app downloaded direct from GappCenter, it appears to be plain sailing. However, with the above in mind we cannot recommend you try it, although of course the choice is yours.
We'd really like to hear from readers about this. If you have already tried downloading the iOS Cartoon HD app from the GappCenter website, have you noticed any problems at all? Are you tempted to try it out for yourself? Let us know with your comments.