Nexus 10 2014 possible with Google Play Status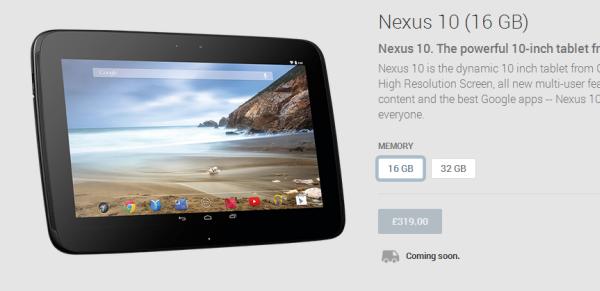 Last year Google for one reason or another decided not to refresh the Nexus 10 with a new model, and this year the main focus has been on an 8-inch model being released. Now though following a Google Play status a new Nexus 10 2014 device is possible.
We have had months of rumours about a Nexus 10 2 with various companies rumoured to be making the device with the latest being HTC. We have seen the current device running out of stock, but now at the time of writing the Google Play listing for the Nexus 10 has coming soon for the tablet PC.
While this could just mean that stock has run out given the age of the device it makes you think that Google could soon quietly introduce a new model of the Nexus 10 to the Play Store. The image for the device looks the same as usual, but we will have to keep an eye out if a refresh model suddenly appears.
Have you been waiting for a new Nexus 10 release?
Source: Google Play via Phone Arena.