Samsung Galaxy S5 Target price deal is tempting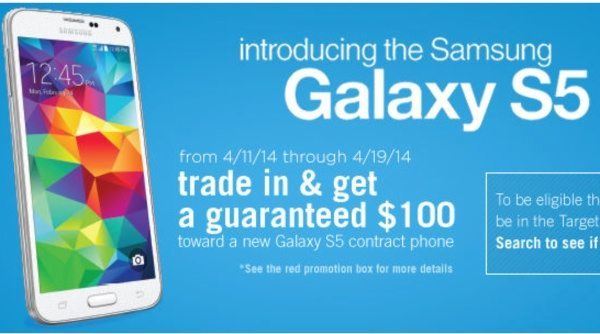 If you're in the US and are about to purchase the Samsung Galaxy S5, you might want to consider a promotion that's currently running. The Samsung Galaxy S5 Target price deal is pretty tempting at the moment, as long as you have a smartphone that you want to trade in.
The standard price of the Galaxy S5 on other carriers is $199.99 on the usual two-year contract, but at Target you could be paying as little as $99.99 on-contract. The Target offer will apply from the Galaxy S5 release date on April 11th, when a trade-in deal will be available.
If you trade in an old handset (in usable condition) and sign a contract with AT&T, Verizon or Sprint, the price you'll have to pay will be just $99.99. You'll need to check first if the phone that you're trading in is eligible for this offer, and you can do this at the source link below.
It's worth noting that if you want to benefit from this Target offer you may want to be quick, as although it runs until April 19 it applies to limited quantities. This sounds like a great deal but we'll also point out that Verizon is also offering a promotion on the Galaxy S5 where if you buy one at $199.99 on contract, you can get another S5 (or HTC One M8 or Samsung Ativ SE) free! Will you be taking advantage of this Target promotion for the Samsung Galaxy S5?