LG G3 display tech seemingly confirmed by company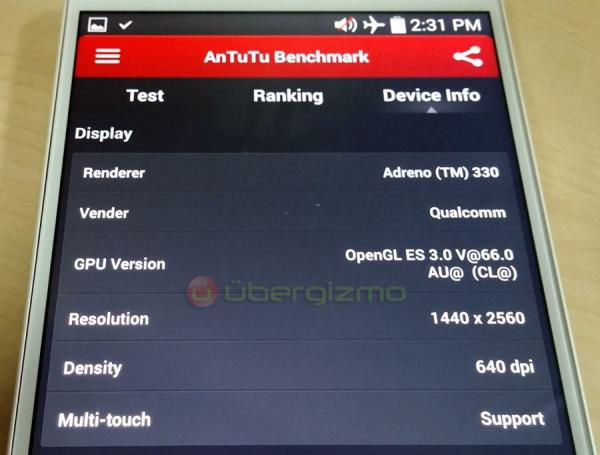 For fans of the Android platform that are not worried about brand loyalty there certainly looks like there will be some great handsets to choose from in 2014, and now the LG G3 display tech is seemingly confirmed by company with an alleged image of the smartphone.
There have been a lot of rumours surrounding the LG G3 recently with a lot of the speculation hinting that the device will come with a 2K resolution display, and now the image that you can see on this page is supposedly of the handset itself.
The source according to Ubergizmo has proven to be reliable in the past and is showing a screenshot of the LG G3 that is displaying the resolution information of the handset that is at 2,560 x 1,440.
There is also information that is displaying the handset is using an Adreno 330 graphics GPU that further strengthens previous reports that the device would be powered by the Qualcomm Snapdragon 801 processor.
Apparently LG were contacted regarding this matter and would only confirm that their next smartphone would have a 2K display, while the bezel on the handset only seems a fraction thicker than the LG G2.
This latest leak comes after we heard previously that the device could feature a 20MP camera with a new flatter UI.
Is the LG G3 a handset you will be seriously considering?