iPhone 5S price bargain at RadioShack, could be free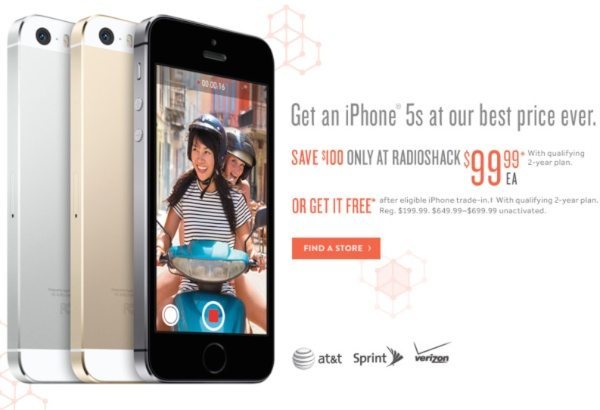 If you're thinking of purchasing the Apple iPhone 5S there's a price bargain at RadioShack right now. You can save almost $100, and a current trade-in deal means you could even get the phone for free. Read on for all the details.
It's pretty rare to see deals as good as this available on Apple products so you might want to take advantage of it while you can. Radio Shack is going all out to push sales with this promotion and is currently selling the iPhone 5S 16GB model for just $99.99, that's with AT&T, Verizon or Sprint with a two-year contract.
The same model direct from Apple is $199 so that's almost a hefty $100 saving. Better still, if you have an iPhone 4S and want to trade it in then you'll receive a $100 credit from Radio Shack, meaning you get the handset free! Trade-in values for other iPhone models will vary.
This promo is not available online so you'll have to head to your nearest Radio Shack retail store. You can read more about this current iPhone 5S price deal with all the small print at RadioShack here. It's a tempting offer, so will you be taking advantage of it?
Via: Phone Arena