Motorola XT1021, XT1022, XT1025 touted for May release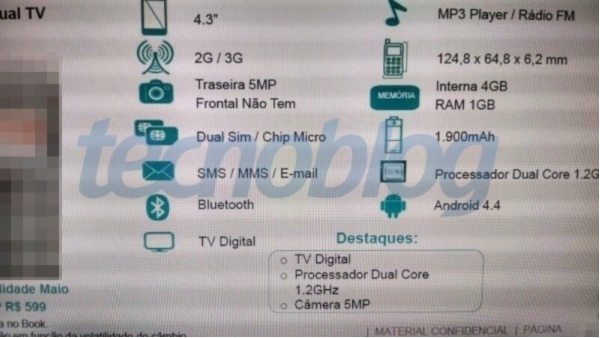 We've been hearing plenty of teasers about the Moto X2 or X+1 already, but now there is news of another Motorola phone, said to be coming in three versions. It's reported that the Motorola XT1021, XT1022 and XT1025 could release as early as May.
The new Motorola phone will have a 4.3-inch display and the three different models were recently approved by authorities in Brazil. It's thought that the XT1021 is a single SIM variant, the XT1022 a dual SIM variant, and the XT1025 a dual SIM plus digital TV version.
A screenshot has leaked that discloses some further details including a 1.2GHz dual-core processor, 1GB of RAM, and 4GB of internal storage. Also revealed is a 5-megapixel rear camera and a 1900 mAh battery, while the operating system of choice is thought to be Android 4.4 KitKat.
Dimensions of the phone are 124.8mm x 64.8mm and 6.2mm so this is an ultraslim handset, which is a nice surprise as the rest of the leaked specs reveal what should be an affordable device. It's reported that the three models of the new Motorola phone will launch in Brazil, although the XT1021 was recently approved by the FCC, with the possibility that it could be offered by AT&T.
It will be good to see further clarification of this device, and we'll be keeping a lookout for that and will let you know more when we find out. Would you be interested in this very slim Motorola smartphone when it hits the shelves?
Source: Tecnoblog (Google Translated) AND FCC
Via: Phone Arena