Nexus 5 vs Samsung Galaxy S5 in UI speeds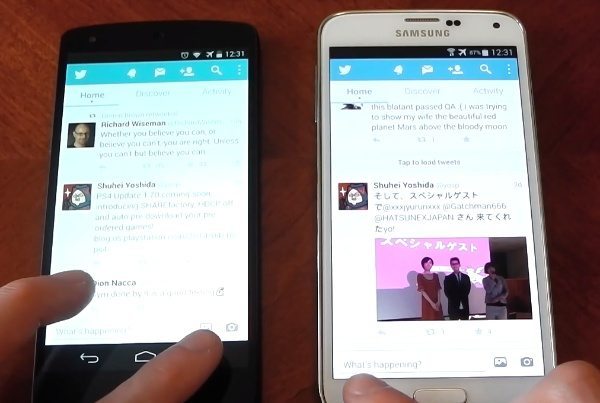 The Google Nexus 5 smartphone made by LG released late last year and is an extremely popular device. On the other hand the Samsung Galaxy S5 has just hit shelves around the world and will be a dominant force among Android smartphones. Today we have a look at the Nexus 5 vs. Samsung Galaxy S5 UI speeds.
One aspect that makes Nexus devices so appealing to many buyers is that they run pure vanilla Android and also get Android updates first. The Nexus 5 and Samsung Galaxy S5 both run Android 4.4.2 KitKat, but whereas the Nexus 5 offers stock Android the Galaxy S5 is also skinned with Samsung's TouchWiz UI, leading to a quite different experience.
We've already given a general comparison of the Nexus 5 and Galaxy S5, but the YouTube video that you can view beneath this article comes from Chris Nacca and gives an interesting look at how the UI performance compares between these two phones. At the beginning of the comparison we hear that both devices have been freshly booted and no applications have been opened.
The reviewer then opens up a few apps with each device shown alongside each other and speeds were pretty evenly matched, with each nudging slightly ahead on different occasions. However, for the Facebook app there was a more noticeable difference, with the Galaxy S5 being quicker each time.
The new Google Camera app was also opened on both, with the Nexus 5 just edging it. Various other tests were also performed, for example looking at multitasking where the Nexus 5 excelled. What becomes apparent is that the bloatware of the Galaxy S5 slows it down noticeably as the Galaxy S5 has to reload applications whereas the Nexus 5 has them in memory.
Ultimately as far as UI performance is concerned, although both devices are speedy the Nexus 5 is felt to do a better job than the Galaxy S5. You might also be interested in a recent display showdown where the Nexus 5 excelled. When you've checked out the video below we'd be interested to hear your opinions on this. Are you surprised at the results of this UI comparison for the Nexus 5 vs. Galaxy S5, or not surprised at all?