OnePlus One vs Samsung Galaxy Note 3 specs & initial thoughts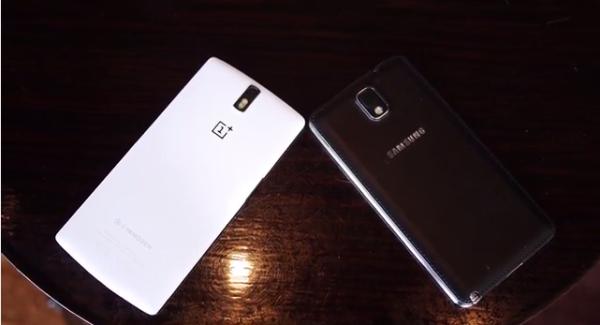 The Android smartphone world is getting a new player that promises to provide an improved experience of the operating system while offering hardware that is more affordable and the OnePlus One vs. Samsung Galaxy Note 3 video is providing us with some initial thoughts and a specs comparison.
We have now seen the official unveiling of the OnePlus One smartphone after weeks of teasing by the company and other leaks, and below this page we have a YouTube video giving us an initial look at the device compared to the Samsung Galaxy Note 3.
The video begins by giving us a look at the two handsets side by side while discussing their relative designs, and the OnePlus One has a premium feel with a minimalistic look, although the Note 3 also feels good in the hand with its faux leather rear.
On the front of the OnePlus One there are no physical buttons and there is an option to switch between on screen buttons or capacitive ones, which compares to the Note 3 with its usual Samsung set up.
The One is almost 2mm taller than the Note 3 but is narrower allowing for easier one handed use with only 6 grams difference in weight between the two. Both handsets have Full HD displays with the Note 3 coming in at 5.7-inches compared to the One at 5.5-inches which both provide an excellent performance.
Under the hood the new kid on the block features the Snapdragon 801 2.5Ghz processor with 3GB of RAM, while the Note 3 has the 2.3Ghz Snapdragon 800 processor also with 3GB of RAM. The rest of the handsets specifications are compared which includes in the custom operating system on the OnePlus One.
Which handset do you prefer the look of?