Larger iPhone 6 compared to rival offerings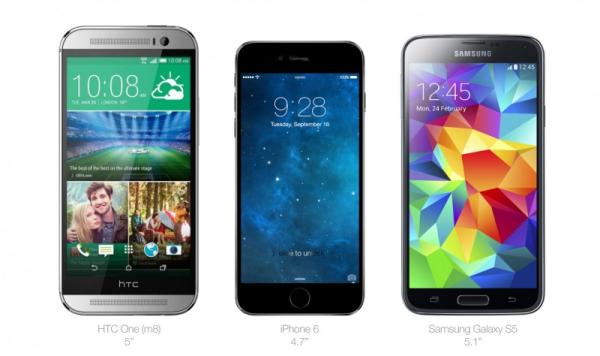 Following lots of leaks and speculation the common belief is that Apple will provide at least one new smartphone this year that has a bigger screen size, and with this in mind we now have a larger iPhone 6 compared to rival handset offerings.
The iPhone 6 is believed to come in a 4.7-inch screen size this year and we have been seeing numerous concept designs of what some think the handset could look like. The image that you can see on this page is one of many created by a MacRumors forum member going under the name of deuxani.
It is showing a 4.7-inch iPhone 6 alongside the 5.1-inch Samsung Galaxy S5 and the 5-inch HTC One M8, which are the two flagship smartphone releases that we have seen so far this year. It gives us an idea of how big any new iPhone could be if the persistent rumours about the device are correct.
There is also some more images of the device alongside the likes of the Nexus 5 and LG G2 which can be found at the above link.
Do you like the idea of a 4.7-inch iPhone 6?