Samsung Galaxy S5 vs LG G2 in video footage showdown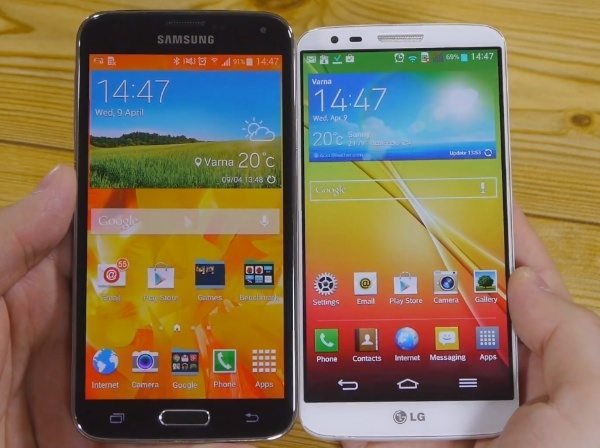 A lot has been said about the difference between digital and optical image stabilization on smartphone camera set-ups. If video capture is important to you on a device then you might be interested in this look at the Samsung Galaxy S5 vs. LG G2 in a video footage showdown.
Put basically, digital stabilization (DS) is produced from software enhancements rather than a built-in camera unit component, which is the case with optical image stabilization (OIS). Hence OIS is seen as the superior of the two options, offering steadier video capture.
The new Galaxy S5 has digital stabilization while the LG G2 features OIS, so how does the S5 video performance stand up against that of the G2? That's what this video comparison aims to show, and for once the results may surprise you. It looks as though Samsung has made real headway with DS results, as the YouTube video that we've embedded below from Phone Arena shows.
The video shows sample video footage of the same scene taken with the Galaxy S5 and LG G2 alongside each other, so that you easily compare the performance of both. The Galaxy S5 footage appears to be equally as good as that of the LG G2 with OIS, and on occasion even better.
Phone Arena does make the good point though that OIS has other benefits than just video capture, as it can enable shooting at slower shutter speeds. However, it's not clear if that's the case with the LG G2.
After viewing the video below we'd be really interested to hear your verdicts on which smartphone you think offers the better quality video footage. Would you say it was the Samsung Galaxy S5 or the LG G2?
Source: Phone Arena