Huawei Ascend P7 Mini revealed ahead of launch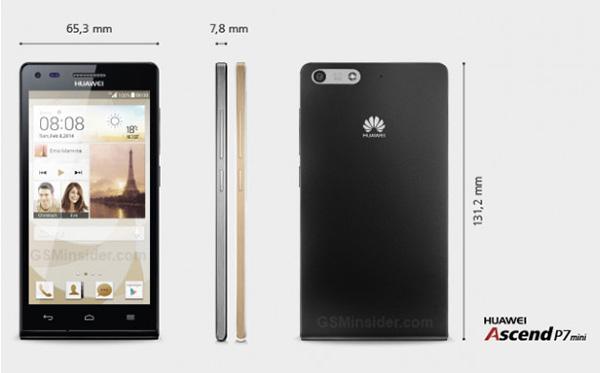 The lower end of the Android market is getting extremely competitive with lots of different handsets being made available, which provides consumers something more affordable to purchase. Now the Huawei Ascend P7 Mini has been revealed ahead of an expected launch next week.
We have already heard that the Huawei Ascend P7 will be showcased at an event next week, but before then details have emerged about a Mini version that is also expected to make its debut at the same press conference.
The Huawei Ascend P7 Mini has a 4.5-inch display at a resolution of 960 x 540, which is powered by the quad core Qualcomm Snapdragon processor running at a clock speed of 1.2GHz. This is coupled with the Adreno 305 graphics GPU and 1GB of RAM running the Android 4.3 Jelly Bean operating system.
Other specs include 8GB of expandable internal storage, 8MP rear camera, 5MP front facer, LTE connectivity, and a 2,000 mAh battery. The handset is expected to be priced around the €250 to €300 mark, and for those that don't fancy the full sized Huawei Ascend P7 this smaller version may be worth considering.
Do you like the look of the Huawei Ascend P7 Mini?
Source: Hi-Tech Mail via GSMArena.