Free HTC One M8 S.H.I.E.L.D exclusive edition to win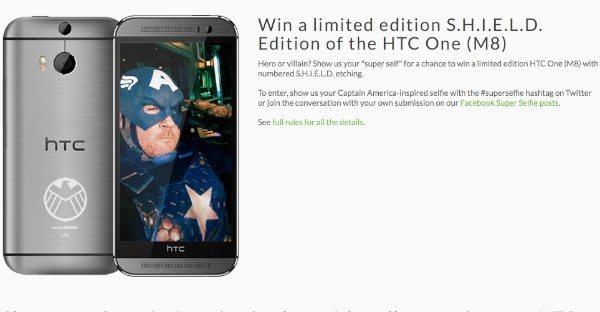 If you want a very special version of the HTC One M8 smartphone then we have some interesting news for you, especially if you're also a Marvel fan. There's a free HTC One M8 S.H.I.E.L.D. exclusive edition to win in a Super Selfie Sweepstakes contest from HTC and Marvel.
Before we go any further we'll let you know that this chance to win an HTC One M8 S.H.I.E.L.D. Limited Edition phone is only open to those in the US and Canada. If that applies to you the sweepstakes ends on May 15 and you'll need to come up with a Captain America-inspired selfie and post it to Facebook or to Twitter with the hashtag #superselfie.
Apparently there are only 14 of these very special handsets being produced and although it looks much like the standard HTC One M8 in gunmetal gray it also features the S.H.I.E.L.D. logo on the reverse. You can check out the full rules with all the small print at the HTC sources below, and at the first source you can also find some Captain America wallpapers to use.
The contest is part of a promo tie-in for Captain America: The Winter Soldier movie. Are you going to enter this sweepstake for an opportunity to win an HTC One M8 S.H.I.E.L.D edition?
Source: HTC (1) (2) (3)
Via: Phone Arena