Nokia Lumia 630 Dual SIM infographic shows benefits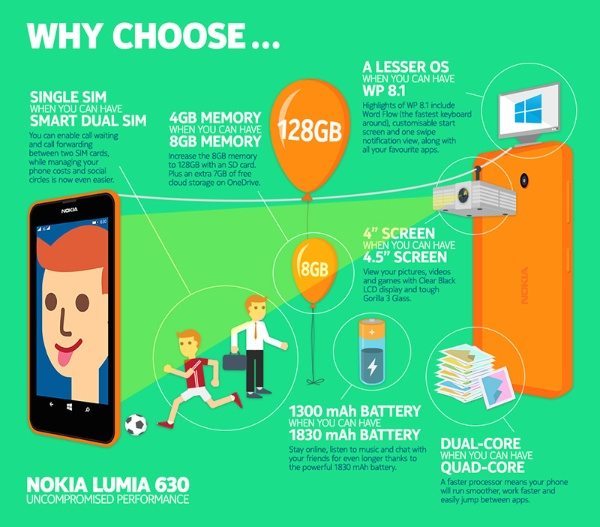 The Nokia Lumia 630 is a recently released smartphone running Windows Phone 8.1. This is another handset from Nokia aimed at the affordable end of the market and it's already attracting plenty of buyers. The phone is available in both single SIM and dual SIM versions, and now we have a look at a Nokia Lumia 630 Dual SIM infographic that shows the benefits of the phone.
We've written many articles now on the Lumia 630 so for more information please check out our previous articles at the above link. Nokia has now issued a neat infographic that sings the praises of the dual SIM Lumia 630 and neatly sums up its advantages against an unnamed rival.
You can see the infographic below this story showing reasons to love the Lumia 630, or for a larger image head to the source below. One of the questions posed by the depiction is "why choose a lesser OS when you can have WP 8.1?" Has the information contained in the infographic convinced you to choose the Nokia Lumia 630 Dual SIM as your next smartphone?
Source: Nokia Conversations
Via: GSMArena