Nokia Lumia 935 design has realistic specs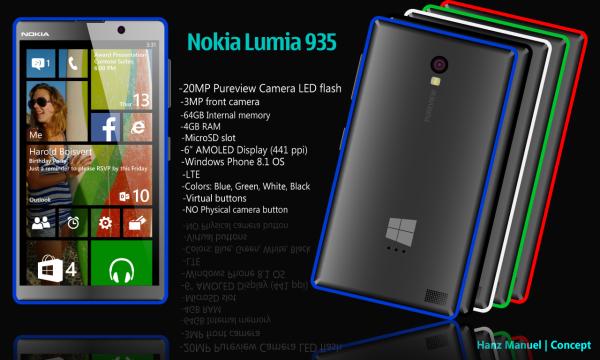 The appeal for the Nokia Lumia range of handsets is growing all the time at both ends of the market, and now that the Windows Phone platform has support for the likes of Full HD displays and quad core processors there are some worthy handsets available. Today we have a Nokia Lumia 935 design that has some realistic specs.
Fans of the Windows Phone operating system are about to get access to the Nokia Lumia 930 but today we have a concept phone idea of what could be its eventual replacement. The Nokia Lumia 935 is the work of Hanz Manuel and features a 6-inch AMOLED touchscreen display with a 441ppi pixel density.
Other specifications include 4GB of RAM with a 20-megapixel rear camera paired with a LED flash unit, and there is 64GB of internal memory expandable via microSD card. What may not be so popular is the removal of the dedicated camera button though.
Of course there is the latest Windows Phone 8.1 operating system while the capacitive buttons have also disappeared in favour of virtual ones, and there is also LTE connectivity with the handset available in blue, black, green, and white colour options if it was actually available for purchase.
Do you like this design?
Source: Concept Phones.