LG G Pro 2 Lite touted as LG G Vista for Verizon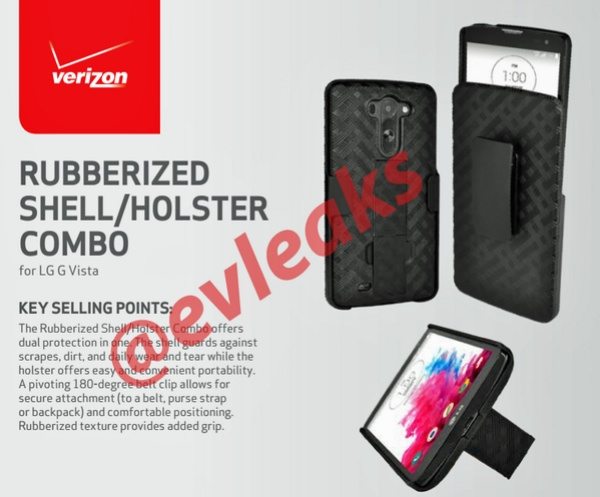 Ahead of new device launches we are always likely to see plenty of leaks, and some are more straightforward than others. If you've been hoping for an LG G Pro 2 Lite then you might be interested in this latest leak. A phone looking much like the LG G3 that could be the LG G Pro 2 Lite has been touted as the LG G Vista for Verizon
The original G Pro Lite released towards the end of last year and the in April this year it was followed by the high-specced LG G Pro 2. This of course raised the question of whether there would be an LG G Pro 2 Lite and it now seems as though that could be the case. A Verizon ad has been leaked by prolific and reliable leaker @evleaks, and it's for a shell/holster case for a device called the LG G Vista.
The same source as this latest leak also tipped the LG G Vista for Verizon with model number LG-VS880 several days ago, and previously this model has been rumored to be for the G Pro 2 Lite. Putting two and two together it looks likely that the G Vista could be the G Pro 2 Lite for Big Red.
It seems unlikely that the G Vista will be launched before the arrival of the LG G3 on Verizon, which is expected to be up for pre-order on the carrier on July 10th and available a week later on July 17th. We cannot confirm that the LG G Vista is definitely the G Pro 2 Lite so we'll be keeping our ears open for more on this.
G Pro 2 Lite specs haven't been detailed yet but the G Pro 2 has a 2.26GHz Snapdragon 800 quad-core processor, 5.9-inch display with resolution of 1920 x 1080, 3GB of RAM, and 16 or 32GB of internal storage, expandable via microSD. It also has a 13-megapixel rear camera, a 3200 mAh battery and runs Android 4.4.2 KitKat, so a Lite version of the phone could be very appealing to many buyers. Have you been hoping for an LG G Pro 2 Lite?
Source: @evleaks
Via: Phone Arena