Wimbledon 2014 official app for iPhone, iPad and Android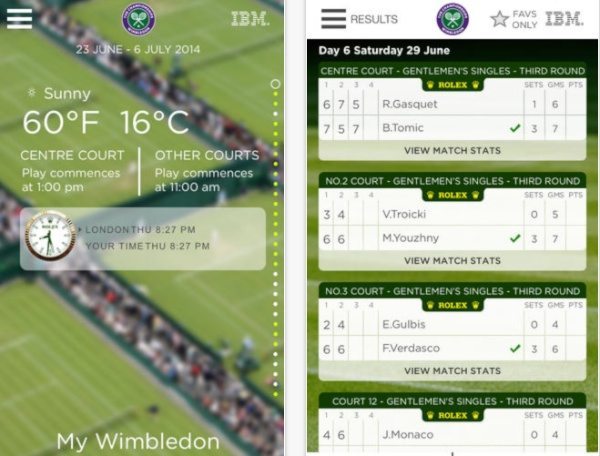 The Wimbledon tennis tournament begins today June 23 and runs until July 6 and there will be many sports enthusiasts looking forward to following this Grand Slam event. If you can't be sitting in front of the TV throughout all of the matches then you might be interested in details of the Wimbledon 2014 official app for iPhone, iPad and Android.
The Wimbledon mobile app will help you to keep informed about all the action so you can keep up to date with everything that's happening. The Championships, Wimbledon 2014 app from The All England Lawn Tennis Club offers plenty of features for different devices and you simply need to hit the following links to the App Store or Google Play to be able to download the free app for the different platforms.
The Wimbledon iPhone app is now on iTunes and has just been updated for this year's Wimbledon. It enables you to follow the action live, and features include the order of play, live scores, results, draws, latest news, player profiles, Live @ Wimbledon video programme, Live @ Wimbledon radio, and commentaries of live match play from Centre Court and Court No. 1.
The app also features player performance alerts for your favourites, on demand video previews, highlights, interviews, photos, fan feedback, the Wimbledon Shop, and also information for spectators fortunate enough to be attending the tournament. The iPhone version of the app is compatible for devices running iOS 6.0 or later.
Alternatively you can also find the Wimbledon iPad app at iTunes, which is also compatible for devices running iOS 6.0 or later. This version of the app gives iPad users the chance to view 360 degree virtual videos of the Wimbledon grounds, with camera tours around the show courts. One really nice feature here is the ability to follow the route of the Champion's walk from the dressing rooms to Centre Court.
The Wimbledon Android app is available from the Google Play Store. This free app is compatible with devices running Android 2.3 or later. The app has many of the features shown for the iPhone version, and the app will fit to any size screen. Will you be downloading any of these official apps to optimize your enjoyment of Wimbledon 2014?