LG G3 vs Galaxy S5 vs iPhone 5S boot up speeds tested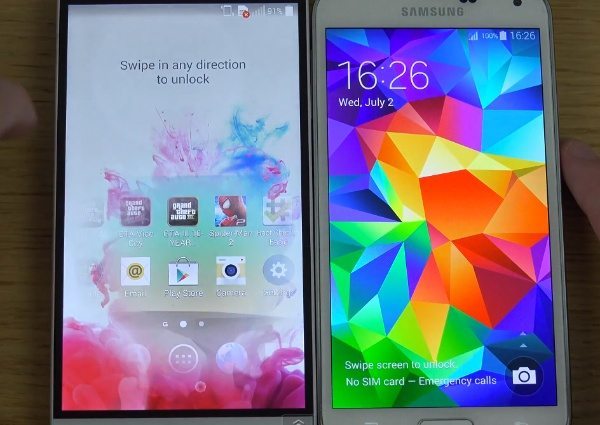 It's always interesting to see how flagship devices compare against each other in various aspects, and today we're sharing videos showing LG, Samsung and Apple premium smartphones. Speed tests are something that many device enthusiasts enjoy, so we're looking at the LG G3 vs. Galaxy S5 vs. iPhone 5S in some boot up speed tests.
Although Google's Android L and Apple's iOS 8 are both heading for a fall release and are currently in the beta stages in the hands of developers, the phones shown in this video use current operating systems generally available. The first YouTube video that we have embedded under this story shows the LG G3 vs. Samsung Galaxy S5.
The video begins by heading to the Settings on both phones and showing that they are running Android 4.4.2 KitKat. We then see the devices alongside each other being powered down with the Galaxy S5 the first to go off. Both devices are then simultaneously powered on, and at first it looks as though the LG G3 has pipped the Galaxy S5 before it's noticed that in fact the G3 is still loading.
The second YouTube video shows the same kind of test with the LG G3 against the iPhone 5S. The LG is running Android 4.4.2 while the iPhone 5S is running the iOS 7.1.2 update, which released a few days ago. The phones are shown being powered down and the LG G3 gets there first. Both phones are then powered on, and this time the iPhone 5S is quite a bit faster than the G3, with the latter taking some time to load again.
It's interesting to note that in these informal boot up tests the LG G3 was slower than both the Galaxy S5 and the iPhone 5S. It would be good to see this testing performed again once these devices are running Android L or iOS 8. When you've checked out the videos below we'd like to know if you are surprised at the results of this boot up testing?