Facebook Messenger app finally available for iPad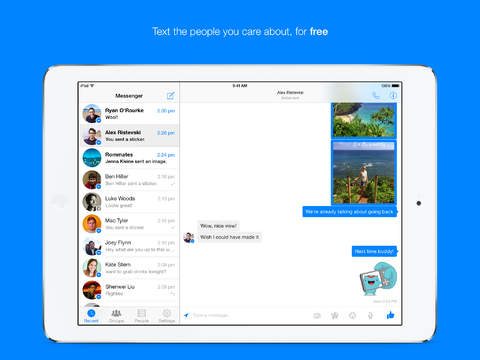 Facebook Messenger is among the most popular instant messaging applications on the market today. With Facebook's ever-growing user base, chances are that most of your friends are on Facebook, so Facebook Messenger has quickly managed to become the go-to app for keeping in touch with friends, family, and co-workers.
The Messenger application is present on all platforms (Android, iOS, and Windows Phone, as the top three) and you can use the client on both your smartphone and tablet. The iOS client has been available for ages for the iPhone, but those who wanted to use the application on their Apple tablet, had no dedicated version for their iPads. Sure, these iPad users were able to keep in touch with others using the official Facebook app (messages and messaging was buried inside the official Facebook application), but now there is a dedicated Facebook Messenger application for the iPad.
The client was released on July 3, and it is version 7.0. If your iPad (or iPhone) runs iOS 7, or later, you'll be able to install and use the new Facebook Messenger without a problem.
The officially published change log is not extensive. You'll find the usual bug fixes and performance improvements, in addition to other fixes which "make the app more reliable". If you shoot a video over to a friend from within the Facebook Messenger application, those videos will now be saved to your Camera Roll. However, the most important entry is the iPad availability.
The application now takes advantage of the iPad's larger screen and resolution, in order to offer a full tablet experience for those using Facebook Messenger. This is done by using a split view of displaying a full, scrollable, list of your messaging threads on the side, while the other side will display the currently selected (ongoing) conversation you're having with your interlocutor. The same calling features present on the iPhone client are also included in the iPad version, and, of course, you can express yourself by using one of Facebook's supported stickers, right from your new iPad app.
You can follow the source link below, or check with your App Store on your iPad, to get the new Facebook Messenger app for the iPad.
Source: Apple iTunes App Store