Real-life picture of Samsung Galaxy F surfaces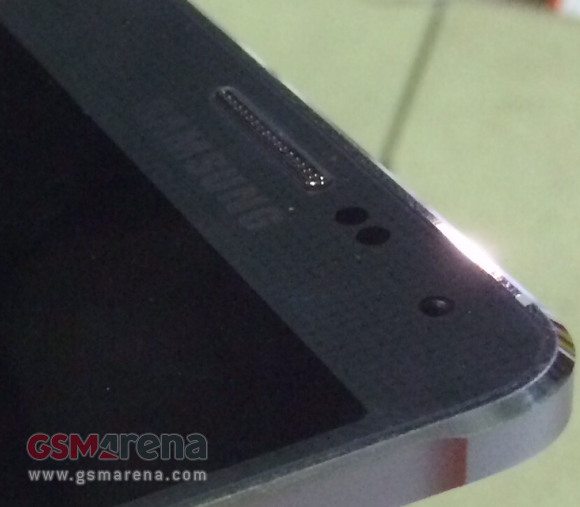 The rumor-mill is in continuous motion and the Samsung Galaxy F seems to be the favorite topic recently. We've heard a lot of rumors, leaks, and reports about the phone which would put an end to Samsung's S-Line. Everything we've heard an seen so far indicated that the phone should reach markets with a metal back-plate. According to the most recent rumors, Samsung will prepare the Galaxy F in time for it to combat Apple's upcoming iPhone 6, as a September timeframe is being mentioned by a recent report.
The picture you're seeing is claimed to be representing said Samsung Galaxy F. You can immediately notice what appears to be a metal edge, which resembles a lot to the chamfered edges on the iPhone 5 and iPhone 5s. Of course, when it comes to these images, it is good to take them with just a little salt, as their source or content can't be verified, until Samsung officially unveils the device.
The picture is accompanied by a report quoting insiders who claim knowledge of the phone. The interesting bit comes now, as we're hearing that the phone should keep a plastic back, while initially we heard that it will sport a metal back plate. Said report claims that the phone will only have a metal housing for the frame itself, while also mentioning that the Galaxy F will have a lot in common with the current flagship, the Galaxy S5.
The Samsung Galaxy F is expected to feature a Qualcomm Snapdragon 805 SoC, Â Quad HD display with 1440 x 2560 resolution, and 3GB of RAM are also mentioned. These specification are already present in one of Samsung's recent smartphones, the Galaxy S5 LTE-A, aka the Prime. Similar specs can be expected to power the upcoming Samsung Galaxy Note 4, which will be unveiled, traditionally, at the IFA 2014 in Berlin, just like all of its predecessors to date.
Source: GSMArena