Samsung Galaxy F September release rumored, as new render leaks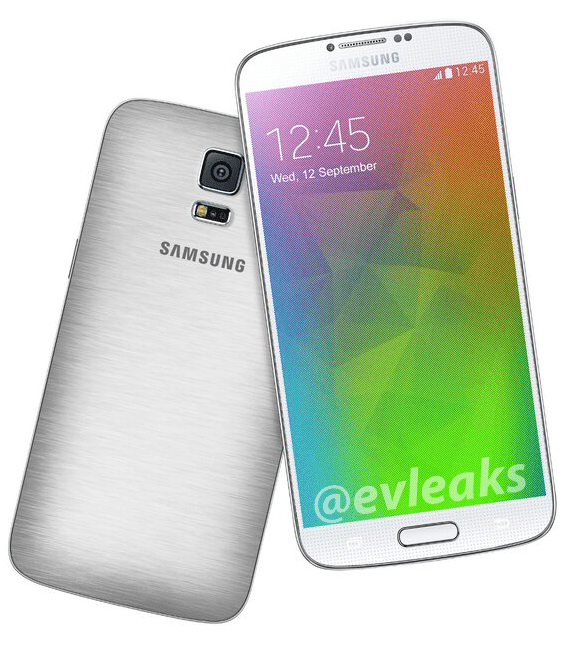 There have been a lot of rumors, leaks, and reports about the Samsung Galaxy F. It is expected to be the phone which would put an end to Samsung's, by now, classic, S-Line. According to what we've heard so far, the phone is expected to reach markets with a metal back-plate, as the phone manufacturers tries to move away from plastic (or faux leather) in order to give the F-line a more premium look and feel.
So far, a release date hasn't been mentioned in reports, or, at least, not a credible, solid one, but according to the most recent rumors, Samsung will prepare the Galaxy F in time for it to combat Apple's upcoming iPhone 6. A September timeframe is being mentioned by a recent report, according to which, Samsung will try to appeal those who passed on the Galaxy S5, don't want a Galaxy Note 4 — also expected in September, at the 2014 IFA in Berlin — and are waiting for Apple's take on larger-screened phones, with the rumored 4.7- and 5.5-inch iPhone 6 models.
The picture attached is just one of the many recently leaked Samsung Galaxy F press renders. This particular one shows off the "crystal clear" color option, which, in the Galaxy F's case, will probably be unadulterated aluminum pigment. Of note is also the small size of the bezels around the screen, pretty much like the narrow bezels found on the LG G3.
So, what can we expect from the Samsung Galaxy F, aside from the alleged "all metal" build? For the spec-aficionados among you, Qualcomm Snapdragon 805 SoC will be at its core, while a 2K (Quad HD) screen with 1440 x 2560 resolution will display everything. 3GB of RAM are also mentioned. All of these specs are already present on the Galaxy S5 LTE-A version for South Korea — a local, beefier version of the flagship — and are expected to power the upcoming Samsung Galaxy Note 4, which will be unveiled, traditionally, at the IFA 2014 in Berlin, just like all of its predecessors to date.
If all the rumors we're hearing are true, would you consider buying an "all metal" Galaxy F? Does it appeal to you more than the hyperglazed polycarbonate used on previous S-phones, or the faux leather on the current S5 flagship?
Source: Apple Insider, Twitter