Moto E vs iPhone 5S in unlikely comparison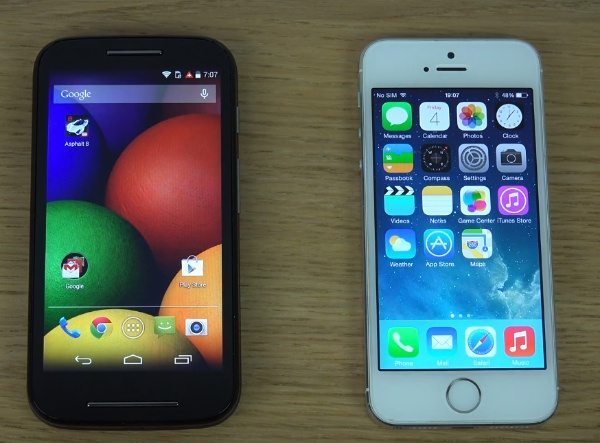 There is a multitude of smartphones available that range from the low-end of the market to the flagship high-end devices. Two that you wouldn't normally see in the same sentence are the Motorola Moto E and the Apple iPhone 5S. Today we want to share a video showing the Moto E vs. iPhone 5S in an unlikely comparison.
The Moto E is an extremely popular very affordable device that has been particularly popular in markets such as India. On the other hand the iPhone 5S is Apple's premium offering with top-notch specs and a price at the other end of the scale.
Bearing this in mind it may seem an odd idea to compare the two, as they seem so far apart. However, the YouTube video review embedded below is interesting, as it aims to find out how the lower-specced and lower-priced Moto E performs against the iPhone 5S.
If you want to find out more about both of these phones you can see our many previous articles on the Moto E here, or the iPhone 5S here, including specs, comparisons, reviews and more. Below this article you can see the video comparison of these two phones, which takes into account that the Moto E is a low-priced device.
It begins by showing the operating systems that the phones are running before looking at the designs of both of the handsets shown alongside each other. Obviously you wouldn't expect the Moto E to feel as premium as the iPhone 5S in this respect, but the reviewer points out that in fact the Moto E has a quality feel considering its price. The phones look to be almost the same size although the iPhone 5S is the slimmer of the two.
The review continues by comparing aspects such as the displays, camera set-ups (don't buy the Moto E for the camera!), internal storage and processors. An interesting note is when it's mentioned that the iPhone 5S can cost between 4 and 5 times more than the Moto E, and yet the performance of the latter is actually speedy and impresses the reviewer.
You can see the full story in the video below, which also mentions gaming, the odd glitch, browser experience, and batteries. When you've watched the comparison we'd be interested to hear your viewpoints. Are you surprised by how well the Moto E held up against the iPhone 5S considering its much lower price point?