Dollar General ad with NET10 ZTE Midnight Z768G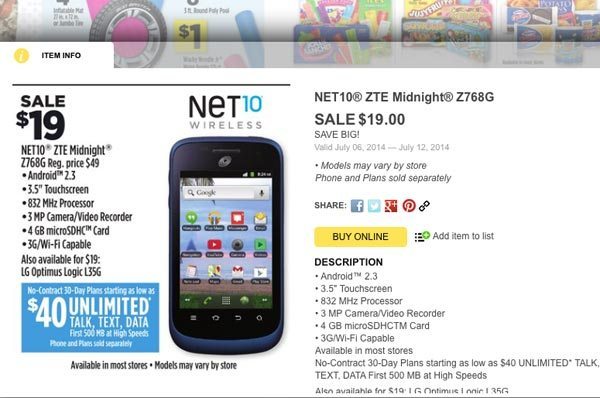 There's a new Dollar General weekly ad that released on Independence Day and will run until July 12, 2014. Within the latest list of deals you'll see the NET10 ZTE Midnight Z768G, which can be picked up for a price of $19 over the next week.
We've included a screenshot from inside the new Dollar General ad below, and this also reveals there's no contract with just 30 day plans starting at $40. These include unlimited text, voice, and data.
If you are looking for a budget phone and are happy with lower specs, then the NET10 ZTE Midnight Z768G might just be for you. Features include Android 2.3, 3G/Wi-Fi, a 4GB microSDHC Card, 3 megapixel camera with video recorder, a 832MHz processor, and all displayed on a 3.5-inch Touchscreen.
You should note the discounts within this Dollar General ad might not be available in all stores, so you'll need to visit their website and search with your Zip Code.
The LG Optimus Logic L35G is also being sold for $19 right now, although we didn't see that cell phone featured within the 4 page advertisement we looked at in the New York area.
Both of these devices are on sale thanks to their age and specs, although with that said this might be perfect for kids looking for a first cell phone or even those of you that don't want all the new smartphone features.
We've included an unboxing video of the LG Optimus Logic L35G and a review of the ZTE Midnight in the videos below. If you've owned either of these phones, then feel free to leave a comment with your quick review or opinion. You can see this weeks ad right here.