Android Distribution numbers are in: Jelly Bean still on more than 50% of devices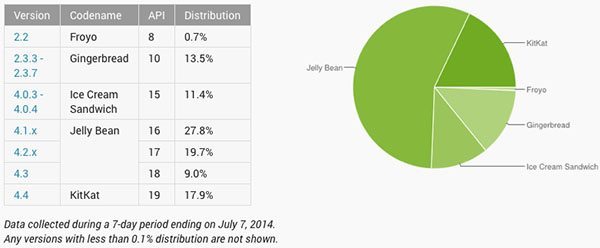 Whether you want to agree, or you choose not to, with those who think that Android is a fragmented mobile operating system, is completely up to you. Google is periodically releasing official Android Distribution numbers on its Android Developers site, and the latest figures are in containing data collected during a 7-day period ending on July 7, 2014. The chart can be seen in the picture attached, but let's do a short analysis on the status quo of the most popular mobile platform on the market today.
Interestingly, Android Jelly Bean, consisting of version numbers 4.1.x and 4.2.x, ad well as 4.3, is still powering more than half of the Android devices on the market, with a combined figure of 56.5 percent. Compared to the previous period, it has fallen by about a percent. Second comes Android 4.4.x KitKat, the latest official version of the operating system, with 17.9 percent distribution, which is 4.3 percent higher than in the previous period when Google reported its Android Distribution numbers. This means that more and more devices are being updated to the (one of the) latest versions of Android.
Coming in third is, believe it or not, Android Gingerbread, version numbers 2.3.3 through 2.3.7. This version of the platform still powers about 13.5 percent of Android devices currently out there, followed closely by Ice Cream Sandwich, with its 11.4 percent, and version numbers 4.0.3 and 4.0.4.
Froyo, which is Android 2.2, is still on 0.7% of devices, and chances are these (as well as those running older versions of the platform) will remain stuck on these builds, as phone manufacturers and/or carriers have most probably abandoned support for these devices. However, even these numbers for older versions of the platform are seeing a decline, which means that some of them are running newer versions of Android (either the official, update way, or with the help of the community and third party ROMs available to download and install/flash). Froyo lost a subunit going from 0.8% in the previous period to 0.7%, while Gingerbread has managed to drop almost 1.5%, from 14.9% previously to 13.5% currently.
Android L, the new version of Android, is expected to see a release this fall. Currently, it is only available as a developer preview, hence not being included in the list, but it will be interesting to see how manufacturers and carriers will adopt the next generation of Google's mobile platform.
Source: Android Developers