iOS 8 battery usage to hurt iPhone drain apps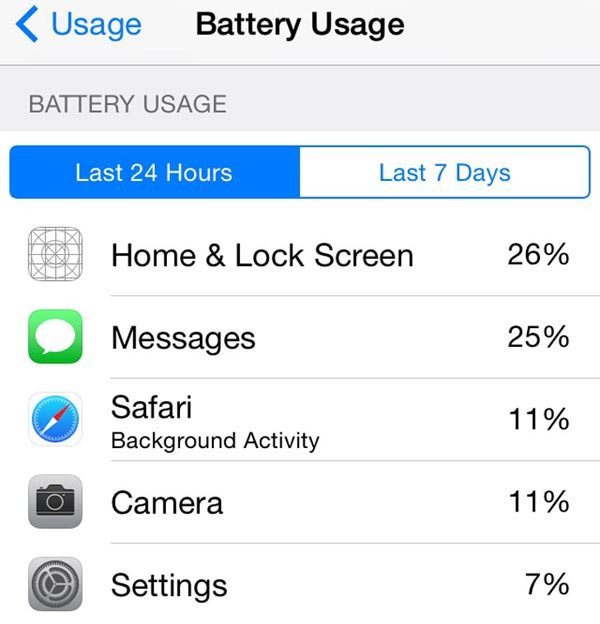 There's a new feature embedded within iOS 8 that details your iPhone battery usage by apps installed, and this isn't limited to 3rd party apps either. You'll be able to see the percentage of battery life used by app, which will quickly help users get to the bottom of iPhone battery drain seen with even the latest 5S and 5C models.
If you want to see a quick hands-on with screenshots, then take a look at this page on Product Reviews and also the screen showcased below thanks to their article. This new feature in iOS 8 will give users a lot more insight into why their battery might be draining fast.
The latest iOS 8 beta 3 just went live and doesn't include any major changes to this battery usage feature, but we have heard that the stats could get more detailed in a future beta or by the Gold Master at least. The more insight users have with battery life stats, the better in our opinion.
iOS 8 battery usage could hurt iPhone drain apps – you won't need to look on the App Store for long to find battery enhancing apps, and one such app is called "Battery Life Pro" with "all-in-one" features. Some apps like this one might stand a chance of success after iOS 8 releases to public, especially if they offer a lot more than just stats about battery life drain within apps, although the majority might not be needed if users track down their problems thanks to badly performing apps.
There's plenty of other reasons why your iPhone 4S or 5S battery might be draining fast. It could be a bad OS install and you'll need a reinstall, other times you might have too many services running and need to change settings a little, but in a large percentage of situations you could be suffering thanks to apps draining your battery. Apple know this and aim to cure it with iOS 8 when it releases in 2 months.
Do you use battery related apps and if so, do you think the iOS 8 battery usage ability might make you uninstall your battery life app? If we see really detailed analytics with the final build of iOS 8, then this could certainly change everything for some users. Phones Review will keep its readers updated if the feature gets a further enhancement with beta 4.