iOS 8 beta 3 download live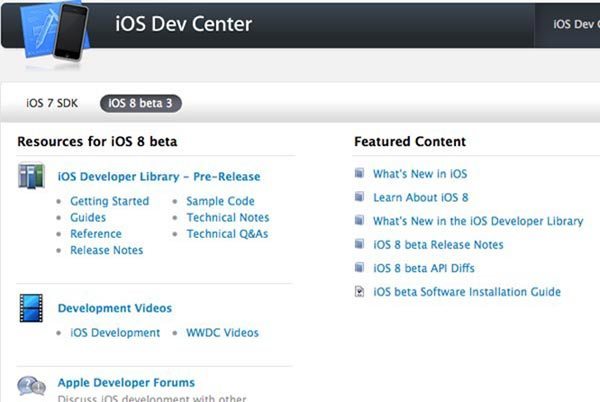 The iOS 8 beta 3 download is live for developers and for those of you with other means of access as well. Product Reviews explained the release notes haven't been updated just yet, but this situation will likely change within a matter of minutes considering beta 3 for iOS 8 only went live about an hour ago.
Only yesterday we explained the next beta should be up for download on Tuesday, although this has obviously changed considering today is Monday and developers have access right now. It is not clear why the traditional 2 week release pattern didn't take place last week, but once we've had time to see the full changelog and get hands-on it should become clear.
There might be some key bugs fixed, like the web browser crashing or freezing some developers report in forums, and there could even be a few new features added since beta 2.
We're downloading iOS 8 beta 3 now with our developer to an iPhone 5, iPhone 4S, and also the iPad mini first generation. We'll post an update within the next day and report on any problems we find, fixes to current issues, or even new features if they arrive this early on in the beta process.
If you're a developer and have installed iOS 8 beta 3, then share a comment with what you've noticed so far. The public release is expected to land after an Apple event in September, this press event will at least deliver a new iPhone, and if you really want to install iOS 8 with a public release you can do so in just over 2 months.