Ramadan 2014 apps for calendar and timetable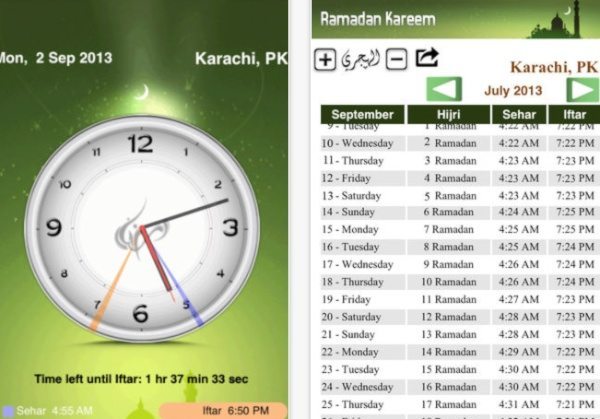 We always like to keep readers informed of useful apps for particular occasions and many readers will know that it's currently the month of Ramadam. This is observed as a month of fasting by Muslims across the world and today we have details of Ramadan 2014 apps for calendar and timetable, for both iOS and Android devices.
The first suggestion we have is called Ramadan Times and this is a free iOS app for iPhone, iPad and iPod touch running iOS 4.3 or later. This is a universal app with worldwide Iftar/Sehar Time clock alarm for daily Ramadan. The app offers a highly accurate method of calculation for sunrise, sunset and twilight, with options for high latitude time calculations.
The interface shows the time remaining for Iftar/Sehar and other features include a monthly view for Ramadan timings, Hijri (Islamic) calendar, and alarm options. The complete Azan alarm can be heard when the App is running in foreground, or a background alarm can be heard. If you want to download this free app you can do so at iTunes here.
Now we have an app for readers with Android devices. Ramadan 2014 comes from PXL APPS, and this is also a free app. It's compatible with devices running Android 2.2 or later and received an update at the end of June. This app is dedicated to Muslim people and has information about Imsak and Iftar's times. Users can consult the current date and the 5 islamic prayer times for over 251 countries across the globe, and add locations with manual selection.
Further features include auto detection of your city, notifications for Zakat Al Fitr, automatic notification activation, and alarm options that can be set to start a selected amount of minutes before Iftar/Sehar. This app provides everything you'll need to know during the Holy month and will keep you updated on the correct prayer timings. You can download this app from Google Play here.
Each of these apps should give you just the information you need for Ramadan 2014. Let us know how you rate them and if there are any other apps you recommend for Ramadan.