EE on stopping Orange Mobile Magic Numbers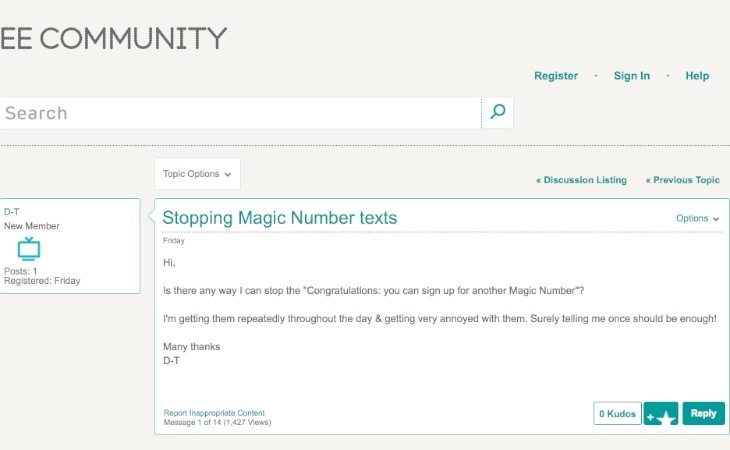 If you're a customer of Orange you may be one of the many people affected by unwanted text messages arriving from the mobile carrier. The texts concern the Magic Numbers service that offers users free calls to favourite Orange Mobile and Orange Broadband Wireless and Talk numbers. Today we have some information from EE on stopping Orange Mobile Magic Numbers messages.
It's easy for users to set up and control Magic Numbers from their Orange mobile accounts, and the service can also be managed by a My EE app. This all sounds great until something goes wrong, and this weekend some users have been plagued by Orange Mobile UK text message spam, reminding them that they can add another magic number.
If the messages only arrived once that would be fair enough, but the EE Community forums are full of posts from people say they are receiving the message multiple times. The issues are also gaining plenty of attention on Twitter. The Orange Mobile UK problems have been acknowledged by EE, with a message posted yesterday by a team member reading —
"If you've received any of these duplicate messages, please accept our apologies for any inconvenience. Remember: you're not charged to receive magic number reminders.

Our team is working on a fix that will stop any further instances of multiple reminders happening. We're expecting an additional update on this fix tomorrow. I'll post here as soon as I have further details."
As of now there doesn't appear to be any further information on this and if you head to the EE Community forums link below you'll see how much frustration this is causing to customers. Some are reporting receiving the messages dozens of times a day, either in blocks or randomly throughout the day.
Hopefully it won't be too much longer until EE finds a fix for this Magic Numbers text issue, but in the meantime we'd like to hear from readers who are having this problem to get an idea of how widespread it is. Have you been having this Orange Mobile UK text problem? If so, are the messages still arriving today or do they appear to have stopped? Let us know with your comments.
Source: EE Community