LG announces G3 cat. 6, brings processor upgrade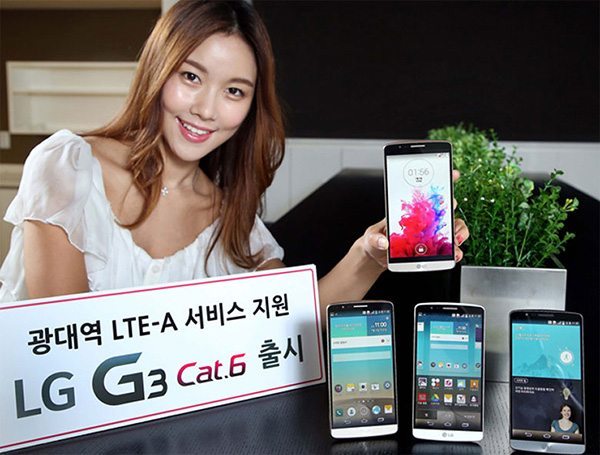 It has become a recent habit for OEMs to release their flagship devices — at their usual, historical, dates and special events — and then, in a relatively short time, to follow-up with a slightly tweaked version of the phone, usually for a specific carrier or market. These phones are built upon the flagship's chassis, but are usually powered by more potent internals. This year isn't an exception either: Samsung, for instance, has released a Galaxy S5 LTE-A (aka Galaxy S5 Prime), just months after the official unveiling of the 2014 flagship, the Galaxy S 5.
The other South Korean phone manufacturer, LG, is following suit. Its 2014 flagship, the LG G3has just recently become available in certain markets around the world — and slowly making its way to North American network operators — but the phone-maker has just recently unveiled a beefier cousin, called the LGÂ G3 Cat. 6.
"Cat. 6" stands for LTE capability, something which the "classic" G3 already had, but the original model was only capable of delivering Cat. 4 standard operation. Aside from network compatibility, the only other aspect in which the LG G3 Cat. 6 differs from its "classic" cousin is the processor utilized.
While the original G3 was powered by a quad-core Qualcomm Snapdragon 801 processor, the Cat. 6 version bumps that up to a quad-core Qualcomm Snapdragon 805 system-on-a-chip. This processor is clocked at a whopping 2.7GHz. Everything else should be the same, including the Quad HD (2.5K) screen with a resolution of 2560 x 1440 pixels. While the G3 was available in two flavors (one with 2GB of RAM and 16GB of internal storage, and one with 3GB of RAM and 32GB of internal storage), the G3 Cat. 6 will apparently only be available with 3GB of RAM and 32GB of internal storage.
The LG G3 Cat. 6 is destined for LG's home market, South Korea, where it will be available staring next week. There's no exact information regarding pricing or specific date of availability, but those outside South Korea will probably have thin chances of grabbing this Snapdragon 805-powers version of the phone. We're pretty sure the slight bump in processor specs wouldn't bring a visible performance improvement in day-to-day tasks, but those interested in specs will probably wish to own this new version.