The LG G Vista arrives Tomorrow on Verizon for $99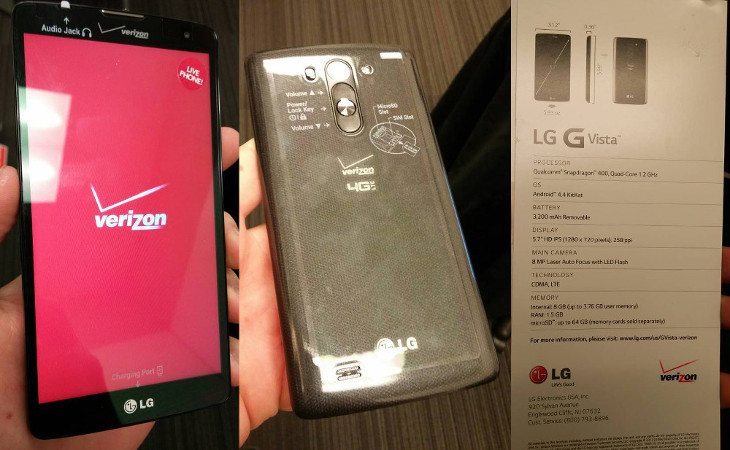 We talked about the LG G Vista last week, and went over its specs along with a rumored release date. That date has come and gone, and now we've gotten a look at the real deal. The LG G Vista is exactly what we thought it would be, and it's headed to Verizon on July 31st.
The LG G Vista has been spotted in the wild by the folks at Droid-Life, and the massive phablet is what it was tipped to be, it's just arriving a week later than we thought. It's not a flagship device by any means, but a solid price and better than average specs could make the LG G Vista your next smartphone.
LG decided to go "Note" with the G Vista as it has a large 5.7-inch display, but don't get too excited just yet. The resolution on the slab is 1280 x 720p which comes out to 258ppi, and the processor is a Snapdragon 400 we've all gotten used to seeing with mid-rangers. You're also only getting 8GB of internal storage, and while it can be bumped up with a microSD card, it's just not much to work with these days. On the plus side, you're getting KitKat 4.4 handset with a 3200mAh battery, 1.5GB's of RAM and an 8MP rear camera.
The LG G Vista will roll onto Verizon's network tomorrow on July 31st, and it will only set you back $99 on a 2-year contract. That price will more than likely drop before Christmas rolls around, so you may find this one in the $49 range depending on sales during the holiday season. If you want it unlocked, you'll have to shell out $499.