HTC Nexus Volantis tablet gets certified in South Korea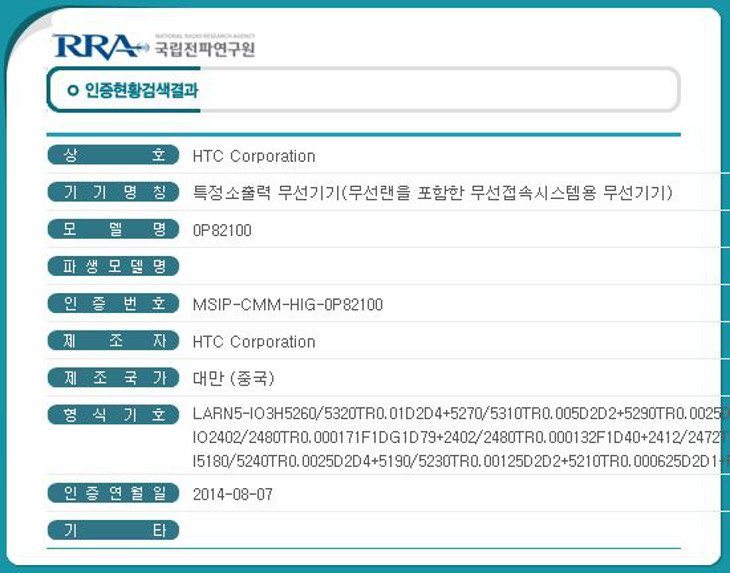 HTC has left a trail of breadcrumbs for us to follow, and over the past several months we've learned quite a bit about the HTC Nexus Volantis tablet. Today we learned the device thought to be the Nexus 8 has just cleared the South Korean version of the FCC, and we got a juicy spec leak as well.
A device known as the 0P8210000 has shown up at the RRA in South Korea, and that number matches a leak dropped by @evleaks a few months back. His leak was for the Flounder/Voltantis tablet, and while the new listing doesn't tell us much, it confirms the existence of that device and proves it comes from HTC.
Our second leak comes from twitter courtesy of @UpLeaks and gives us a breakdown of the HTC Nexus 8 tablet. According to the tipster, the "HTC T1" will have a 64-bit Tegra K1 processor, 4GB of RAM, and an MDM9x25 modem for the cellular variant. The front-facing shooter is rumored to be a 1.5MP camera while the rear camera is an 8MP IMX219 w/ flash.
HTC T1(a.k.a Flounder/Volantis) 64Bit Tegra processor, MDM9x25 modem(for cellular model), 4GB RAM(Elpida 2GB*2), NFC, GPS, Android L

– UpLeaks (@upleaks) August 8, 2014
The RRA listing tells us an HTC slate is on the way, and it looks like it will be the Volantis tab we've all heard so much about. The Nexus 6 may still be up in the air, but the Nexus 8 leak gives us hope that a new Google handset is still in the works – we just hope it isn't 5.9-inches.
Via – GforGames