OnePlus One runs sexist "Ladies First" Promo

Some people just don't get it. OnePlus got everyone excited with the OnePlus One, but they continue to lose fans and supporters with idiotic promotions like their latest "Ladies First" promo. It's the company's new contest that offers ladies an opportunity to pick up an invite, and you won't believe what they expect them to do.
The Ladies First Promo is the latest promotion from the company known for holding strange promos. Unlike "Smash the Past" contest, women don't have to smash their old handset, but they are asked to snap a selfie of sorts. Women who take a photo of themselves with the OnePlus logo drawn on their body (or a sheet of paper) are then voted on by the community for a chance to win a OnePlus One smartphone. Can you see the problem with this?
The 50 most "well-liked" ladies will get an invitation to buy the OnePlus along with a T-shirt, and the issue with the promotion should be obvious to anyone reading this — especially women. While we thought the whole "Hot or Not" concept had gone the way of the dinosaur, apparently nobody told the geniuses behind OnePlus that, and they are catching hell across the net for the Ladies First OnePlus promotion.
As they say, a picture is worth a thousand words, and this one says it all…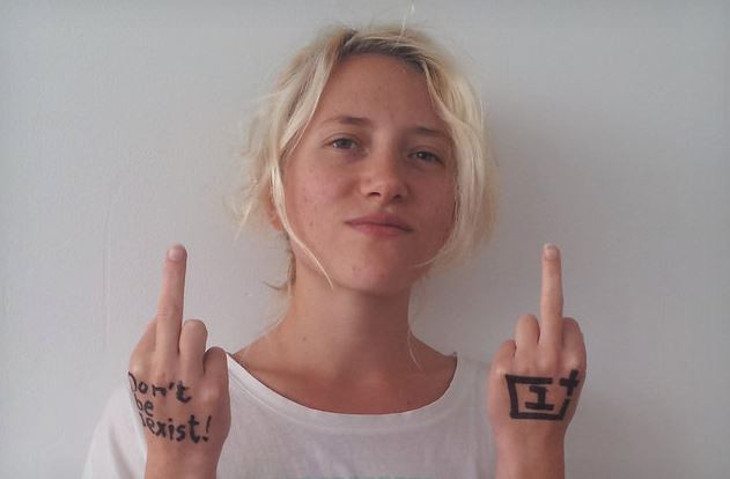 Don't expect many of those as the forum thread has been "cleaned" according to an admin. That's another thing OnePlus is famous for…
OnePlus One should know better than to pull a stunt like this, and they probably do, but just don't care as they seem to thrive on the attention. This appears to be another form of guerrilla marketing from the company, and it's a poor example of how to do business and a great way to lose customers.
Via – The Verge   Source: OnePlus
Update: The promo has been pulled for the moment.