Samsung Gear VR photos show Samsung's Mobile Virtual Reality setup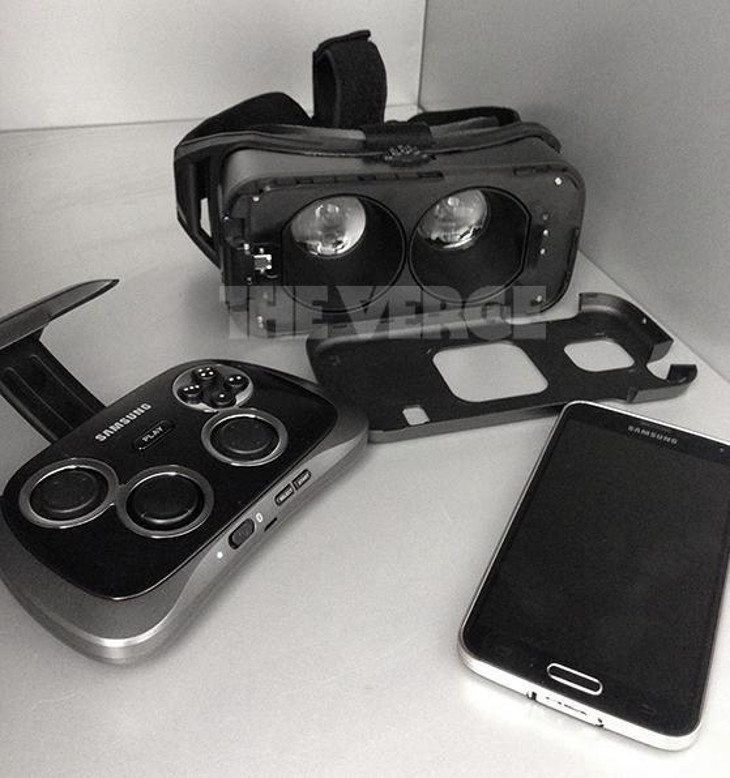 We've known Samsung was getting into the VR game for some time, but today the first batch of Samsung Gear VR photos surfaced on the net. Thankfully, they haven't included any stippled textures or pleather on the device… so far.
The Samsung Gear VR is Sammy's entry into the mobile VR field, and it looks pretty darned slick for a first attempt. The device is codenamed 'Project Moonlight' and you can see a dial on the top that will help tune in the visuals, and apparently, the smartphone is held in place with lid of sorts. You'll connect said smartphone to the Gear VR through a USB port, and the tech behind the headset will take care of the rest.
A controller was shown as well, and while it's hard to make out, you can see what looks like start & select buttons at the bottom of the device. The face of the controller has three d-pads to go along with the usual 4-button setup. It's interesting, and it definitely looks like it was made by Samsung.
The Samsung Gear VR should be shown off at IFA in Berlin, but everything is up in the air in terms of specs, pricing and availability. Some speculate the headset will arrive before Christmas, but it's not always wise to guess about release dates with new devices from Sammy — remember that Galaxy S5 Prime that was a lock for the states earlier this year?
Do you think Samsung's mobile VR setup can compete with the Oculus?
Via- The Verge