Moto 360 price and specs are revealed by Best Buy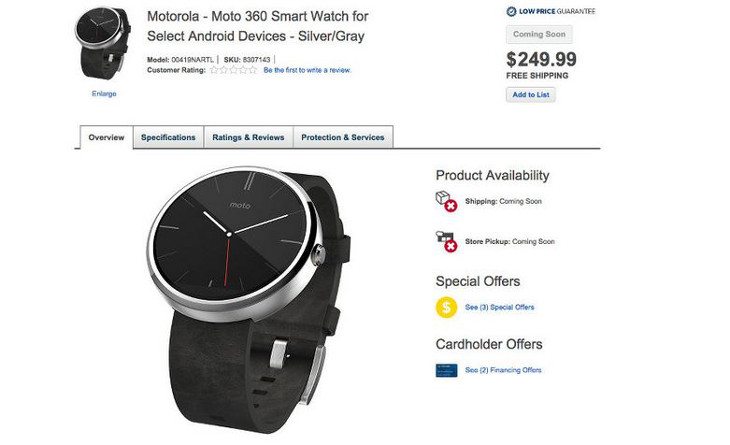 We've often discussed the Moto 360's price and possible release date, and one of those questions was answered courtesy of Best Buy. The Moto 360 briefly appeared on the retailer's website, and it was listed with the surprisingly low price of $250.
We had heard that the Moto 360 price was said to be below $300, and if Best Buy's page is true, there are going to be a lot of people wearing the smartwatch as soon as it becomes available. The product listing gave us a few specs as well, so now we know a bit more about what resides inside the sleek smartwatch.
The Moto 360 has a 1.5" backlit LCD display with a resolution of 320 x 290 and 205ppi. It's a touchscreen, and it's made from Gorilla Glass 3, so those sapphire rumors can be put to rest. It's waterproof up to 3.3-inches for up to 30 minutes, so it will be okay if you forget to unstrap it in the shower. We already knew about the pedometer and optical heart rate monitor thanks to a previous leak, and the only other new piece of info would be the fact that the processor is listed as coming from Texas Instruments.
Best Buy's page wasn't around for too long, as the listing has been pulled and now says "out of stock" instead of coming soon. That said, we did get the model number 00419NARTL and SKU 8307143 along with a photo thanks to the fine folks at Droid Life. We still don't know when the Moto 360 will be released, but it should be long as it's a lock to be unveiled on September 4th in Chicago.