Lenovo Roadmap Leak lists Five new Smartphones as Coming Soon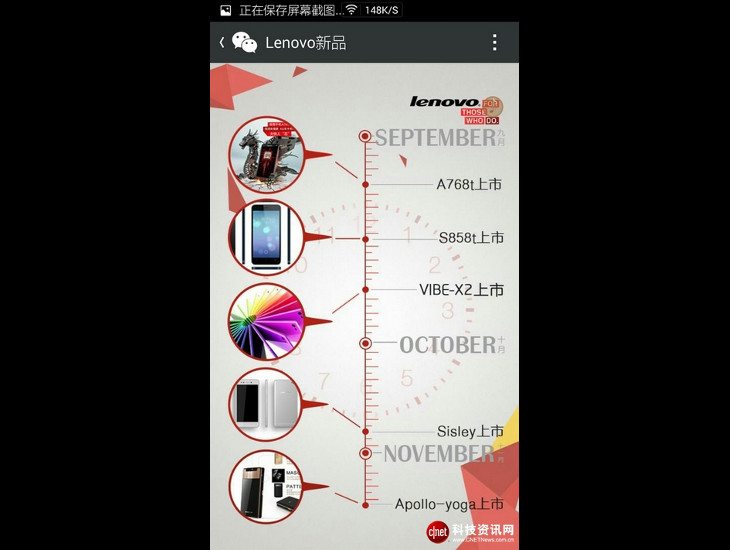 It's rare to see a leaked roadmap from a carrier or company, but when it happens, you can gain a wealth of information. We got a doozy today with a Lenovo roadmap leak that shows several unannounced devices set to hit the streets before the end of this year.
While it's not surprising that Lenovo still has a few handsets left in their 2014 arsenal, it might shock you to hear there are five listed in the new Lenovo roadmap leak. We're going to start with the one we know the most about which is the Lenovo A768t.
The Lenovo A768t appeared in the TENAA database around the first of the month. The device will have a 5.5-inch 720p display, 1.2GHz chip, 8GB of internal storage and 1GB of RAM. The camera combo is listed as 8MP/2MP, and it's a 4G handset. If the roadmap leak is correct, it will arrive the first week of September during or near IFA.
The next two September releases are the Lenovo S858t and Lenovo Vibe X2. The S855t will be a svelte handset as its 6mm thick and only weighs 99grams. The Lenovo Vibe X2 is an LTE smartphone with a 2GHz octa-core processor and is said to be a "fashionable smartphone."
The Lenovo Sisley is another thin device (6.9mm), but little else is known about the specs aside from a 13MP rear camera. Speculation is that it's tied to French cosmetics manufacturer Sisely in some way, and it will be available in a wide variety of colors including blue, orange, grey, cream, white and pink. It could be an exclusive device, or just a colorful handset aimed at taking selfies as that seems to be a growing trend. Either way, we'll find out in October.
The last device to drop in the Lenovo roadmap leak is the most interesting, and it goes by the name of Apollo Yoga. We don't know about the display, camera or processor, but it's listed as coming in the first few weeks of November. It's also said to be a flip phone that allows you to rotate the screen 360 degrees like the Yoga tab.
If the Lenovo A768t arrives on time, then it's safe to say the Lenovo roadmap leak is legit, and the other devices should follow. We shall find out in a few short weeks. Do any of the new handsets listed interest you or do you already have your next smartphone picked out?
Via – GforGames