Xolo Q610s is priced at Rs. 7,499 in India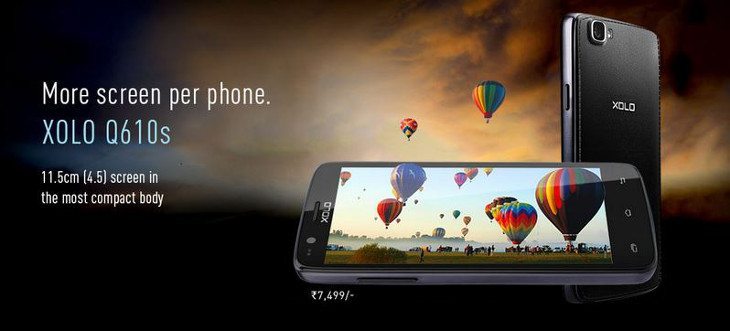 It seems like Xolo releases a couple of new handsets each month, and August is no different. Another new device has just been unveiled, and it's headed to India in the very near future. It's a budget smartphone, but its cheap as the Xolo Q610s is priced at Rs. 7,499 in India.
The last time we checked in on Xolo, they had just released the KitKat 4.4 update for the Xolo Q700s, but they've been busy little bees since that time. Recently, the company revealed the Q510s, and today they have just announced another mid-ranger with the Xolo Q610s.
The Xolo Q610s is a bit bigger than the Q510s as it comes with a 4.5-inch 480 x 854 display compared to the 4-inch screen on the previous model. Everything else basically stay the same, so you can expect a 1.3GHz MediaTek MT6592M, 1GB of RAM and 8GB of internal storage. The cameras are of the 5MP/.03MP variety and the battery is a bit bigger at 1700mAh. The device also has a microSD slot and features a "leather back finish."
While the Xolo Q610s specs aren't going to have a jaw-dropping effect on most folks, it does run Android 4.4 and has dual SIM capabilities to boot. It's also cheap as it's the Xolo Q610s is priced in India at only Rs. 7,499. The 510s by comparison is Rs. 6,499. It really comes down to a larger display, and the price difference is minimal.
We're not sure why Xolo would release two devices so similar back to back, but at least you'll have options if you're looking to pick up a smartphone from Xolo. No release date has been set, but it should roll into India soon.