This is how the iPhone 6 will look like, according to these leaks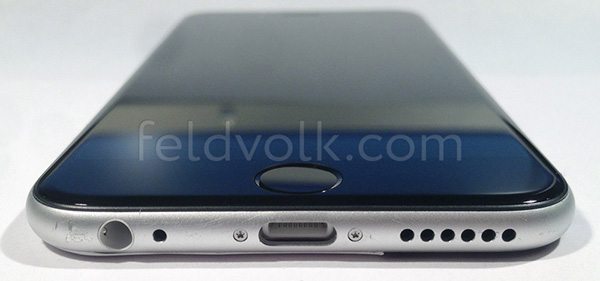 We sure hope you're not tired of all the iPhone rumors popping up regularly on the internet recently, because we've got another one for you. As the September 9 special event is getting closer and closer, the leaks are becoming more and more telling. As a reminder, Apple is expected to unveil not one, but two iPhones this year, pretty much like last year's iPhone 5s and iPhone 5c. However, this year Apple's rumored to go big, increasing the size of both its smartphones; we're expecting a 4.7-inch and a 5.5-inch model, and, so far, the leaked images depicting parts have confirmed that.
However, aside from dummies, renders, concepts, and knock-offs, we have not seen how the iPhone 6 will look so far. Sure, we've seen the back plate in allegedly leaked images, as well as the front panel and glass, but, today, for the first time, we're looking at what is claimed to be the iPhone 6, after joining the parts and putting them together for the first time. Of course, get your usual dose of salt ready for these images, but it's the best we've got so far, and claimed to be the real deal.
The source of these images is luxury iPhone vendor Feld & Volk's Instagram page. After putting together the front and the back, they allegedly photographed the end result, and what you can see below is how it looks like. This is what the 4.7-inch model will allegedly look like, with no information on the bigger, 5.5-inch model.
You can see the front glass is slightly tapered towards the edges, blending in with the aluminum back panel, which is also tapered, with rounded edges. The bottom holds the speaker and microphone, the charging port, as well as the 3.5mm headphone jack, while the side is where the usual volume rockers and rotation lock button can be found. Another bit of interesting info is that the iPhone 6 will allegedly be even thinner than its predecessors, measuring 7mm, opposed to 7.6mm of the iPhone 5s.
Judging from the images, this could really be the deal for this year, especially that the device pictured and claimed to be the iPhone 6 seems to follow the recent design trends of the iPad Air and iPad mini. We'll of course have to wait a little more than two weeks until we officially see what's in store for this year, but, judging by these images, it could look good. Let us know of your thoughts! Do you like what you see? Or is it more of the same?


Source: Instagram
Via: Macrumors