Xiaomi Redmi 1S lndia launch date and pricing revealed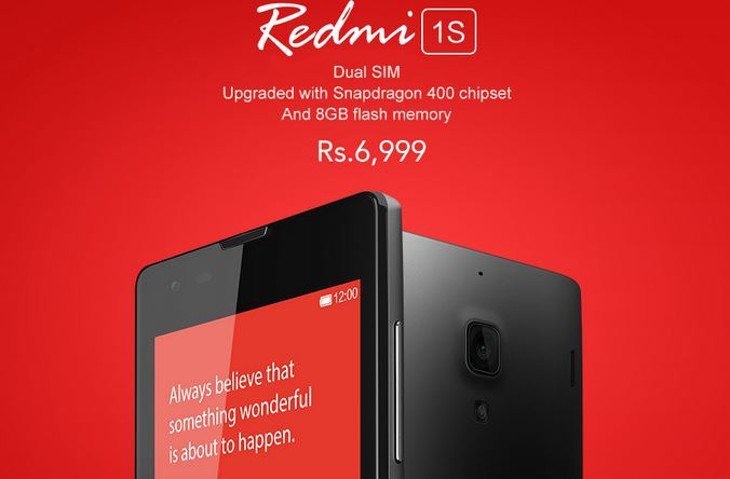 If you reside in India, you know it's not easy to pick up one of Xiaomi's handsets as they tend to sell out rather quickly. If you didn't have much luck with the Mi3, you'll be pleased to know the Xiaomi Redmi 1S India launch date and pricing has been revealed.
The Xiaomi Redmi 1S is headed to India, and it's getting not one, but two launch dates. It will launch in Bangalore on August 25th before moving on to Delhi on the 26th. As for the device itself, you're looking at a budget handset that anyone would be proud to have in their pocket. Seriously, it will run circles around the most of the mid-range pack.
As you'd expect, the processor in the Xiaomi Redmi 1S is the standard Snapdragon 400 quad-core clocked at 1.6GHz. You'll also get 8GB of internal storage to go along with 1GB of RAM, and you'll be thankful for the microSD slot that lets you expand the storage. A 2000mAh battery will keep the juice flowing, and it will run Android 4.3 with the MIUI v5 skin on top.
While the specs listed are on par with most mid-rangers, the display and cameras are not. The Xiaomi Redmi 1S will have a 4.7-inch 720p display, and the front-facing camera is a respectable 1.6MP. The rear camera packs an 8MP sensor as well, so you can see that the Redmi 1S has a bit more to offer than your standard budget device. The best part is still to come…
The Xiaomi Redmi 1S is priced at RS. 6,999 ($115) in India, and that's a price that's going to be very hard to beat for what you're getting. There are faster handsets, and there are cheaper ones, but you're getting a lot of bang for your buck with the Redmi 1S. Expect it to sell out very, very quickly.
Via – Gizchina