Nokia releases HERE for Samsung Galaxy phones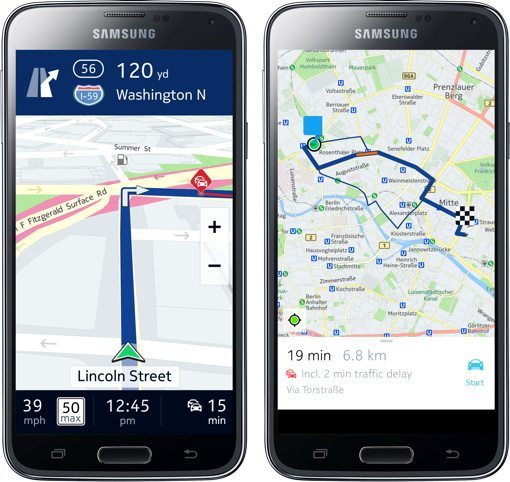 It's a beta, but it will be available for Android-powered Samsung Galaxy phones. The mapping and location service from Nokia (now part of Microsoft) that was so far available exclusively on Windows Phone-powered devices will soon be available to those rocking Galaxy phones from Samsung. Sadly, there is no word on when exactly other Android phone owners (from other manufacturers) will be able to get their share of fun, but, as a result of a recent licensing agreement with Samsung, owners of Galaxy S 5 phones, and alike, will be able to grab it.
When exactly? The official wording says: "when the Samsung Gear S arrives in stores", whenever that will be. The press release seems to refer to Google Maps — and other similar software, that requires constant internet connection, or at least the need to locally cache parts of maps — when it talks about HERE's capability to search and navigate while offline. On Windows Phones, you can download the maps straight to your phone, store them locally, and use them to your heart's content; that is exactly what the press release mentions with regards to HERE for Android (well, Samsung Galaxy, for now), also throwing in the fact that locally stored map data is easier and faster to access.
Directions (both walking and driving) will be included, as well as public transport information and guidance. Live traffic information and real-time transit schedules will also be available, however, you will need to have a working data connection (or internet access) in order to benefit from the additional information.
As far as coverage is concerned, the official press release announcing the HERE app for Android mentions that there will be maps for "almost 200 countries". Out of these, turn-by-turn walk or drive guidance will be available in almost half of those. Users in more than 40 countries out of the total of 200 will be able to rely on traffic information will  in more than 40, while "transit maps and directions in more than 750 urban areas across more than 40 countries".
The official wording promises more features to arrive in the coming month, however, you'll have to wait, for now, just a little bit until you will be able to download and use the app on your Samsung Galaxy phone.
Source: Here
Via: AndroidCentral