Size of iPhone 5S vs. iPhone 6 Plus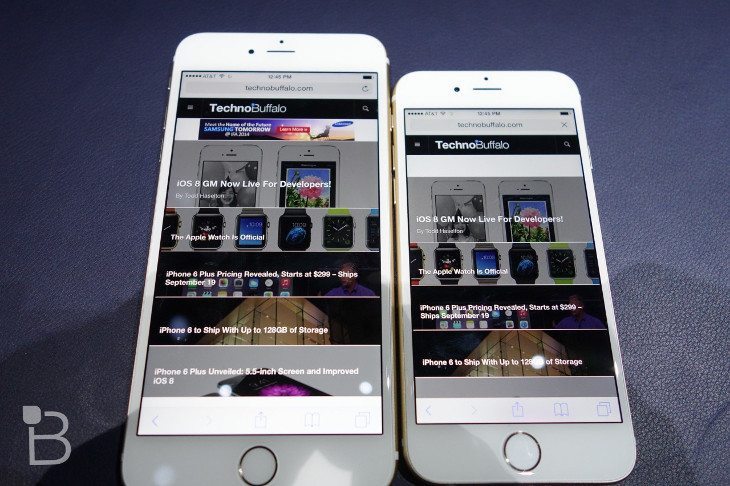 It's official, the iPhone 6 and iPhone 6 Plus exist, and they'll be in the hands of millions of folks next week. Not everyone is thrilled with the new iPhone 6 Plus though, as some have deemed it a little too large for their liking. Well, we're going to take a look at the size of the iPhone 5S vs. iPhone 6 Plus and hopefully it makes your choice a bit easier.
When the iPhone first sprang into existence back in 2007, it had a 3.5-inch display, and that was just fine considering nobody had ever seen anything like it. The 3G and 3GS iPhone kept the screen size the same, and it nothing changed until the iPhone 4 when the resolution rose to 640 x 960 over the previous models 320 x 480 res.
The iPhone 5s was Apple's last flagship, and it measures 123.8 x 58.6 x 7.6mm and weighs 112g. The display clocks in at 4-inches, and it has a pixel density of 326 and a resolution of 640 x 1136. The 4.7-inch iPhone 6 raises the screen size up by over half an inch, but keeps the pixel density the same. The iPhone 6 Plus is a different beast altogether though with measurements of 158 x 77.7 x 7.1mm. The screen size comes in at a whopping 5.5-inches, and the resolution has increased to 1080 x 1920. The pixel density is also through the roof moving up to 401ppi.
There is a considerable difference in the overall size of the iPhone 6 Plus, but they managed to keep the thickness down which is impressive. If you don't have childlike hands, the size difference may not affect you, but it will certainly be noticeable to anyone coming from an older iPhone.
Do you feel like the iPhone Plus 6 size is too bit compared to the previous models?
via – TechBuffalo