Meizu MX4 Pro specs and dimensions leak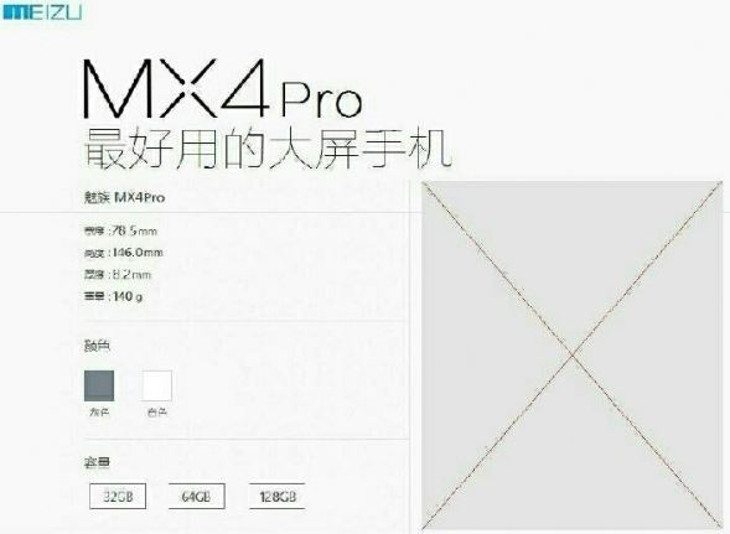 The Meizu MX4 hasn't been out for long, and we're already getting word on its follow-up, the Meizu MX4 Pro. We didn't know much about the device until a few days ago when a set of Meizu MX4 Pro specs leaked, and today we learned a bit more about its overall dimensions.
According to a photo leak posted on Weibo, the Meizu MX4 Pro specs include an octa-core Exynos 5430 "variant" and a 5.36-inch display with a resolution of 2560 x 1536. Other Meizu MX4 Pro specs include a 20.7MP rear-snapper, 13MP front-facing camera and a staggering 4GB of RAM. That said, there's a bit of a discrepancy with the Exynos chip that exists and the one listed, so unless there's a variant or a typo, you've got to take these MX4 Pro specs with a grain of salt.
The second set of Meizu MX4 Pro specs hit the web today, and they seem to be more in line with what we should see in the Pro version. The new specs show a 5.5-inch QHD display, an octa-core Kirin 920 and 3GB of RAM. The cameras are 16MP/2MP this time around, and the storage options come in at 32, 64 and 128GB. The dimensions are listed at 146mm x 78.5mm x 8.2mm thin with a weight of 140g.
It's safe to say the first set of Meizu MX4 Pro specs are pretty shady after taking a look at the newly leaked specs. Stranger things have happened, but our money is on the second leak as it's a nice (realistic) upgrade across the board compared to the regular version of the MX4. Expect the Meizu MX4 Pro or Mini to arrive sometime in October.
Would you be interested in the Meizu MX4 Pro if the price is right?
Via – GSMDome