New Nexus 6 renders show a Massive Moto X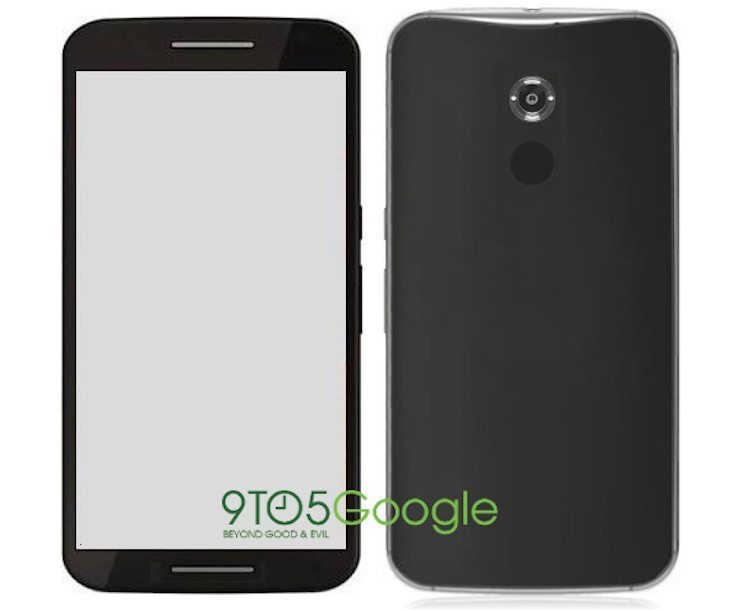 Just yesterday we talked about the rumored Nexus 9 and Nexus 6 release dates, and tonight we've got some more news. This time around it's all about the Nexus 6 design, and you may be a little surprised by the new Nexus 6 render.
According to 9to5google, the new Nexus 6 or Nexus X (nothing new there) will indeed sport a 5.92-inch display. The device itself is said to be a bit larger than the display, but no matter how you slice it, it's a huge handset. That said, it will apparently be a QHD display so it'll be big and beautiful. Some folks may be thrilled at the news, but the size is going to turn some customers away. If the new Nexus 6 renders are legit, that may actually be their goal.
The site did a mock up that's said to be based on the real Nexus 6, and as you can see it's essentially a larger version of the new Moto X. The buttons are moved around a bit, but it looks like the X although their sources say the design hasn't been finalized quite yet. The rest of the rumored Nexus 6 specs include 3GB of RAM, a Snapdragon 805 and a 13MP/2MP camera combo. There's apparently a 32GB model with the possibility of a 64GB version, and the battery is said to be of the 3,200mAh variety.
This batch of Nexus 6 specs line up with what we previously learned, but we still have some sources (and benchmarks) suggested a 5.2-inch device while others are going with a 5.9-inch phablet. It's possible that there could be two, but we think that's unlikely. If the Nexus 6 is a truly just a larger "Premium" version of the Moto X, people will already have a choice if they want a smaller handset — the Moto X.
The X is already close to stock as it is so this could be the phasing out of the old Nexus line as rumored around the first of the year. Either way, today's Nexus 6 leak is just the tip of the iceberg as we expect to see actual photos arrive any time if the October reveal is true.
Will you opt for the Moto X is the Nexus 6 is 5.9-inches or go all-in on the phablet if it has a QHD display?
Source: 9to5google