iPhone 6 vs Xperia Z3 Compact, Galaxy Alpha comparison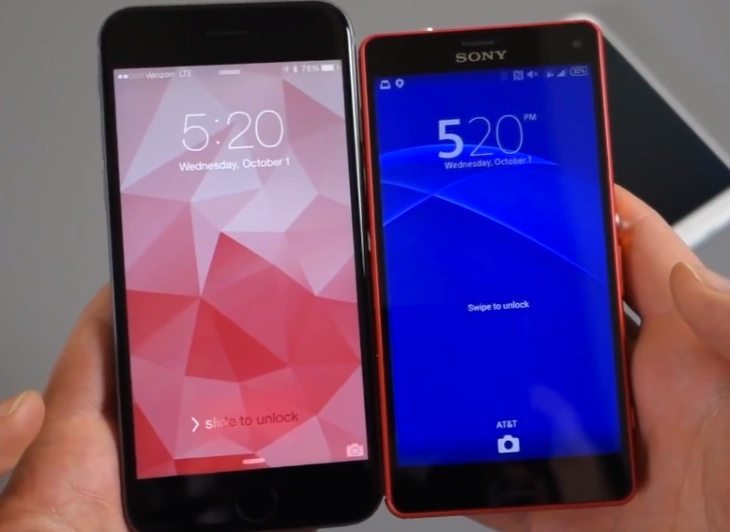 There are plenty of top-notch smartphones that have released in recent weeks, and some of these are the Apple iPhone 6, the Sony Xperia Z3 Compact and the Samsung Galaxy Alpha. Increasingly we're seeing an interest in phablet-sized smartphones, but all of the above cater for those who don't want something so big. Today we have a video comparison to share of the iPhone 6 vs. Xperia Z3 Compact and Galaxy Alpha.
Some potential buyers of these phones will have an easier choice if they particular prefer the iOS or Android platforms. The iPhone 6 runs iOS 8 (upgradable to iOS 8.0.2) while the Xperia Z3 Compact and Galaxy Alpha both run the latest Android 4.4.4 KitKat operating system. Display sizes are similar though, as the iPhone 6 and Galaxy Alpha both have a 4.7-inch display while the Z3 Compact sticks to 4.6-inches.
We've previously shown a comparison of the iPhone 6 and Galaxy Alpha that focused just on the advantages of each, but the YouTube video that we've embedded beneath this story goes in to a bit more detail. It comes from Droid Life and at the beginning it's noted that the Galaxy Alpha and Z3 Compact aren't particularly considered to be flagships as the iPhone 6 is, but nevertheless they have some great specs.
You'll then see the phones lined up alongside each other as well as last year's Motorola Moto X and then the reviewer runs through some key details on each handset and aspects such as the displays, cameras, and more. Designs and builds are also discussed and a favorite of sorts is picked at the end. Bear in mind though that there will be a leaning towards the Android handsets as Droid-Life is an Android site, but overall this gives a useful overview and insight into the phones.
When you've checked out the video at the bottom of this story we'd be interested to hear from you. If you're about to purchase one of these smartphones will it be the iPhone 6, Sony Xperia Z3 Compact or the Samsung Galaxy Alpha?