FIFA 15 review of gameplay for the iPhone 6 Plus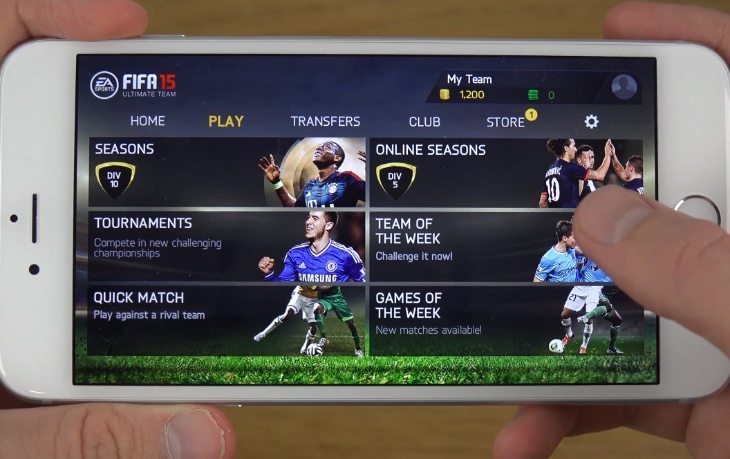 Many football fans are now getting to grips with FIFA 15 and have hardly moved away from their consoles or mobile devices since it released. We've been bringing plenty of news on the mobile app for Android and iOS devices, and today we have a FIFA 15 review of gameplay for the iPhone 6 Plus.
You can check out all of our earlier FIFA articles at this link for much more on the game, and these include Android gameplay videos and FIFA 15 Ultimate Team review results. It's always good to be able to show gameplay for devices on various platforms though, so this time around we're sharing an iOS look.
As the iPhone 6 Plus is a phablet sized handset with a sizeable 5.5-inch display, it lends itself very nicely to mobile gaming. The YouTube video that you can see embedded below this story shows the FIFA 15 iPhone 6 Plus gameplay review. You'll see the match being set up before play begins, and the reviewer notes that he uses the old-school method of play rather than swipe gestures.
The reviewer has also played the game on the standard sized iPhone 6 but notes that FIFA 15 with the larger screen of the 6 Plus running iOS 8 is "amazing." The video goes on to show more of the match and game controls, and ultimately it's felt that the experience of playing it on the iPhone 6 Plus is "awesome." In the screenshot below you can see a glimpse of Chelsea FC's Eden Hazard.
Considering this review, if you have been wondering whether to purchase the iPhone 6 or 6 Plus, it could be worth buying the larger version if you're a fan of gaming. If you already have the iPhone 6 Plus and have played FIFA 15 Ultimate team, we'd like to know what you think of the game on the larger iPhone? Do let us know by dropping us your comments in the box below.