iPad Air 2 battery testing shows shorter life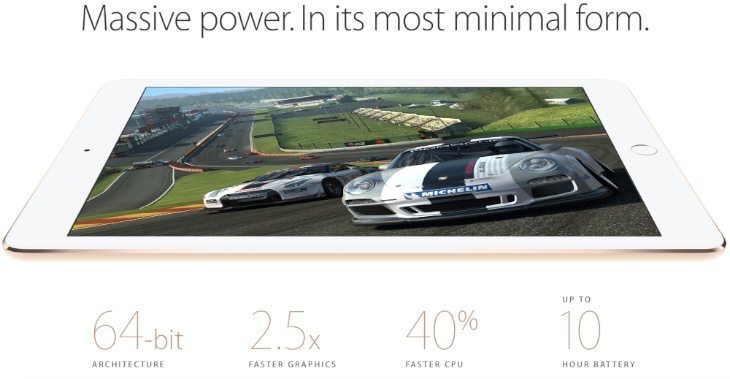 One of the things that most concerns our readers when we discuss upcoming Apple devices is battery life, and when new iPhones or iPads are on the way this is one of the things we are most often asked about. The iPad Air 2 recently launched and one of the aspects we know that many people desired most was more battery life. However, iPad Air 2 battery testing has shown a shorter life than with its predecessor, the original iPad Air.
Phone Arena often conducts battery life testing on new devices and has put the iPad Air 2 through its paces. The site tests battery life using a custom web-script which is meant to realistically replicate power consumption during real-life usage. As you can see from the tablet below, the Samsung Galaxy Note Pro 12.2 tops the chart with 8 hours and 58 minutes of running time. This was followed by the original iPad Air on 8 hours and 38 minutes and then in third spot is the iPad Air 2 on 7 hours and 27 minutes. That's a whopping 1 hour and 11 minutes shorter than the first-generation Air.
As last year's iPad Air carries an 8820 mAh battery and the iPad Air 2 with its slimmer format has a 7340 mah battery, perhaps we shouldn't be too surprised. With a smaller battery capacity it makes sense that battery life will be less, but that contradicts Apple's recent claims for the iPad Air 2. The company suggested that even though the new iPad Air has a lesser battery capacity there is no compromise to its battery life.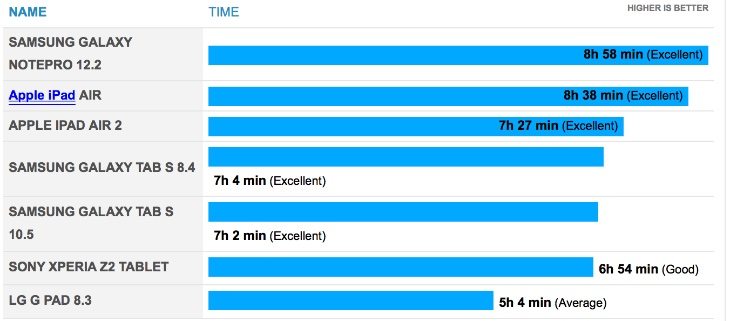 Apple said, "With this kind of performance, you might expect a compromise or two. Like a bigger form factor or a shorter battery life. But iPad Air 2 is both thinner and lighter than the previous iPad Air. And thanks in part to the M8 motion coprocessor, it still has an incredibly long 10-hour battery life.*"
Although the asterisk refers to a disclaimer about battery life differing with use and configuration, we don't think potential buyers would have expected battery life to be this much less. With this in mind we'd be really interested to hear from readers about iPad Air 2 battery life.
If you have already purchased the iPad Air 2 does it's lasting power live up to your expectations? Maybe you were about to purchase the iPad Air 2 but are now having second thoughts? Let us know by sending your comments.
Source: Phone Arena