Nexus 5 Android 5.0 Lollipop vs OnePlus One 4.4 KitKat CyanogenMod 11S review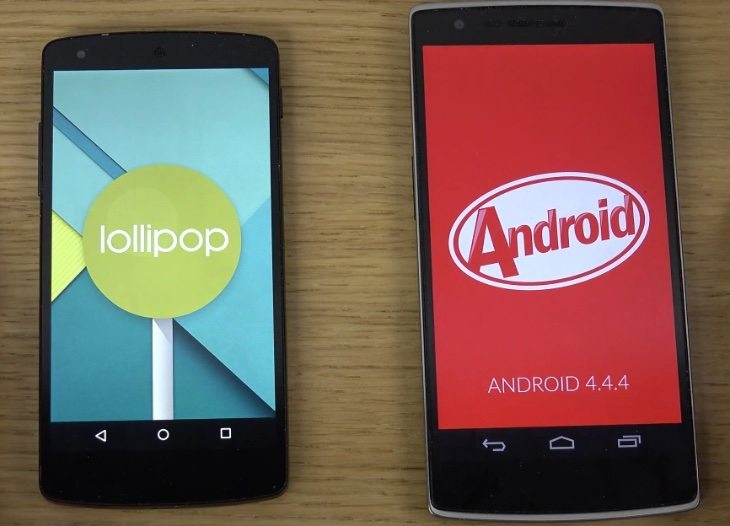 We've been bringing plenty of news about the Android 5.0 Lollipop update that is due to start rolling out to various devices soon. Recently we showed a video of the Nexus 5 running a developer preview of Android 5.0 vs. the iPhone 6 on iOS 8. Today we have a video to share that shows a Nexus 5 Android 5.0 Lollipop vs. OnePlus One 4.4 KitKat CyanogenMod 11S review.
The Nexus 5 smartphone will be one of the first devices to receive the public release of Android 5.0 Lollipop, which so far has been in the hands of developer testing. Many readers who are Android device enthusiasts will also have heard of the OnePlus One smartphone that runs custom CyanogenMod 11S based on Android 4.4 KitKat.
Below this article we've embedded a YouTube video that compares the two operating versions of these devices. It begins by showing how similar the home screens are before moving on to some of the differences with the modified CyanogenMod handset. It continues by comparing the Settings menus and covers other features such as the dialer, multitasking, app drawer, boot-down screen, wallpapers, some of the customizations with CyanogenMod and more.
The video offers an interesting preview of how the Nexus 5 looks running Android 5.0 Lollipop and some of the differences offered with the CyanogenMod experience. Of course the Nexus 6 smartphone and Nexus 9 tablet will both release with Lollipop out of the box, and you may also be interested in our earlier article today about the Lollipop update for Asus Zenfones.
When you've checked out the video we'd be interested to hear your feedback. Are you a fan of CyanogenMod as offered on the OnePlus One, or are you eagerly awaiting the release of Android 5.0 Lollipop for your device?